Antimicrobial peptides in Urticina eques and Echinus esculentus. Isolation, characterisation, and structure-activity relationship studies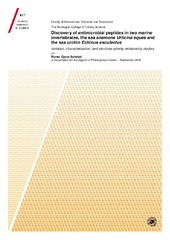 View/Open
Thesis introduction (PDF)
Paper I: Solstad, R. G., Li, C., Isaksson, J., Johansen, J., Svenson, J., Stensvåg, K., Haug, T.: «Novel antimicrobial peptides EeCentrocins 1, 2 and EeStrongylocin 2 from the edible sea urchin Echinus esculentus have 6-Br-Trp post-translational modifications". Also available in
Plos One 2016, 11(3):e0151820.
(PDF)
Date
2016-12-09
Type
Doctoral thesis
Doktorgradsavhandling
Abstract
Bacterial resistance to antibiotics has become a serious global problem. Infections that once were easily cured with antibiotics have now become nearly impossible to treat. Thus, there is a desperate need for new antibacterial drugs. Antimicrobial peptides (AMPs) are a diverse group of compounds. Amongst their unique features are their ability to kill bacteria (often both Gram-positive and Gram-negative) as well as other microorganisms rapidly without toxicity to other cells. AMPs have been suggested as an option for treating bacterial infections where traditional antibiotics have little effect. The overall aim of the study was to discover and characterise novel AMPs in Echinodermata and Cnidaria, and secondarily to map bioactivities, explore toxicity and perform structure-activity relationship studies. The most potent AMPs were discovered via bioassay-guided purification in the edible sea urchin Echinus esculentus, killing bacteria at low µM-concentrations and fungi at somewhat higher concentrations. The AMPs were homologous to the centrocins and strongylocins of the green sea urchin Strongylocentrotus droebachiensis and were named EeCentrocins 1 and 2 (dimeric and with the antimicrobial activity located in the heavy chain), Ee4634 and EeStrongylocin 2. All AMPs were post-translationally modified on all Trp-residues with a bromine in the 6 position. Additional post-translational modifications involved C-terminal amidation on the light chains of EeCentrocins 1 and 2, N-terminal cyclic glutamate on EeCentrocin 2 and disulphide bonds on EeStrongylocin 2. None of the EeCentrocin HCs displayed toxicity to human erythrocytes. Structure-activity relationship studies on EeCentrocin 1 heavy chain (30 amino acids) led to a truncated 12-mer AMP where Asp8 and Asn12 were replaced with Ala and Lys respectively. The AMP displayed potent antimicrobial activities. Additionally, an Ala-scan was performed identifying the two Trp-residues as crucial for activity towards Gram-negative bacteria, whereas the anti-Gram-positive activity was more dependent on the Trp in position two. An AMP in Urticina eques was named -AnmTx Ueq 12-1 (short name Ueg 12-1) and characterised. This AMP was antibacterial exclusively towards the Gram-positive Corynebacterium glutamicum at 50 µM concentrations. Ueq 12-1 was bifunctional as it potentiated the TRPA1 ion channel in addition to its antibacterial activity. Analgesic activity was furthermore demonstrated in vivo in rats where the peptide reduced licking behaviour on a hot-plate test. The primary sequence of Ueq 12-1 appeared non-homologous to any currently known peptides, but the 3D-structure was somewhat homologous to the defensins.
Description
The papers II and III of this thesis are not available in Munin.
Paper II: Solstad, R. G., Johansen, C., Stensvåg, K., Strøm, M. B., Haug, T.: «Structure-activity relationship studies of shortened analogues of the antimicrobial peptide EeCentrocin 1 from the sea urchin Echinus esculentus". (Manuscript).
Paper III: Logashina, Y. A., Solstad, R. G., Mineev, K. S., Korolkova, Y. V., Mosharova, I. V., Dyachenko, I. A., Murashev, A. N., Palikov, V. A., Palikova, Y. A., Arseniev, A. S., Kozlov, S. A., Stensvåg, K., Haug, T., Andreev, Y. A.: "New disulfide-stabilized fold provides sea anemone peptide to exhibit both antimicrobial and TRPA1 potentiating properties". (Manuscript).
Publisher
UiT The Arctic University of Norway
UiT Norges arktiske universitet
Collections
Copyright 2016 The Author(s)
The following license file are associated with this item: