Trends and variability of polar mesopause region temperatures attributed to atmospheric dynamics and solar activity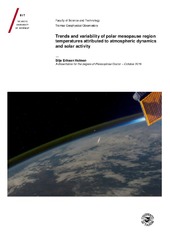 Åpne
Thesis (PDF)
Paper 1: Holmen, S. E., Dyrland, M. E., Sigernes, F.: "Mesospheric temperatures derived from three decades of hydroxyl airglow measurements from Longyearbyen, Svalbard (78◦N)". Also available in
Acta Geophysica 2013, 62 (2): 302–315.
(PDF)
Paper 3: Hall, C. M., Holmen, S. E., Meek, C. E., Manson, A. H., Nozawa, S.: " Change in turbopause altitude at 52 and 70◦N". Also available in
Atmospheric Chemistry and Physics 2016, 16:2299–2308.
(PDF)
Dato
2016-12-19
Type
Doctoral thesis
Doktorgradsavhandling
Sammendrag
The mesopause region can be considered a "boundary region" between the neutral atmosphere, where atmospheric constituents and momentum are transported mainly by winds and turbulent eddies, and the ionosphere, where the main transport mechanism is molecular diffusion. In the mesopause, complex interactions between dynamics and photochemistry occur, and we are far from a complete understanding of these interactions. This thesis aims to better understand the processes responsible for the large temperature fluctuations we observe in the polar mesopause region, especially the effects of atmospheric circulation and wave activity from lower atmospheric layers. Investigations of trends have also been conducted. To carry out these investigations, we have derived and examined mesopause temperatures from two high-latitude locations: Tromsø (70°N, 19°E) and Longyearbyen (78°N, 16°E), and turbopause height only from Tromsø. A long-term change in turbopause height may be important for understanding processes that are responsible for redistribution of atmospheric constituents. We examined winter season variations in the hydroxyl (OH*) airglow temperature record from Longyearbyen and identified local temperature maxima in mid-January and mid-February, as well as a minimum in the transition between December and January. We also identified a number of statistically significant periodic oscillations in temperatures derived from the Nippon/Norway Tromsø Meteor Radar, with periods ranging from 9 days to a year. The seasonal variation showed higher temperatures and variability during winter compared to summer. We also found local temperature enhancements just after spring equinox and summer solstice. Temperature variability and seasonal variation may, to a large extent, be explained by the large-scale circulation in the middle atmosphere and corresponding wave activity. The trends for the Longyearbyen OH* airglow winter temperature series and meteor radar derived temperatures from Tromsø, both annual and summer trends, were estimated to be near-zero or slightly negative. The Tromsø winter trend was negative, (-11.6 ± 4.1) K/decade. We derived turbopause altitude from turbulent energy dissipation rates obtained from the Tromsø medium-frequency radar and found an increasing height in summer, (1.6 ± 0.3) km/decade, during the time period from 2002 until 2015, while in winter turbopause height did not change significantly. We investigated the response of the change in turbopause height to a change in temperature, but a changing temperature did not alter trends significantly, irrespective of season.
Forlag
UiT Norges arktiske universitet
UiT The Arctic University of Norway
Følgende lisensfil er knyttet til denne innførselen:
Relaterte innførsler
Viser innførsler relatert til tittel, forfatter og emneord.
Rypdal, Kristoffer

;

Ratynskaia, Svetlana

;

Kozelov, Boris

;

Klumov, Boris

;

Knapek, Christina

(

Working paper; Arbeidsnotat

,

2008-03-04

)

The notions of self-organised criticality (SOC) and turbulence are traditionally considered to be applicable to disjoint classes of phenomena. Nevertheless, scale-free burst statistics is a feature shared by turbulent as well as self-organised critical dynamics. It has also been suggested that another shared feature is universal non-gaussian probability density functions (PDFs) of global fluctuations. ...

McCrea, Ian W.

;

Aikio, Anita

;

Alfonsi, Lucilla

;

Belova, Evgenia

;

Buchert, Stephan C.

;

Clilverd, Mark

;

Engler, Norbert

;

Gustavsson, Björn Johan

;

Heinselman, C.

;

Kero, Johan

;

Kosch, Mike

;

Lamy, Herve

;

Leyser, Thomas

;

Ogawa, Yasunobu

;

Oksavik, Kjellmar

;

Pellinen-Wannberg, Asta

;

Pitout, Frederic

;

Rapp, Markus

;

Stanislawska, Iwona

;

Vierinen, Juha

(

Journal article; Tidsskriftartikkel; Peer reviewed

,

2015-07-29

)

The EISCAT (European Incoherent SCATer) Scientific Association has provided versatile incoherent scatter (IS) radar facilities on the mainland of northern Scandinavia (the EISCAT UHF and VHF radar systems) and on Svalbard (the electronically scanning radar ESR (EISCAT Svalbard Radar) for studies of the high-latitude ionised upper atmosphere (the ionosphere). The mainland radars were constructed ...