Mechanisms of Host Plant Infection by the Parasitic Angiosperm Cuscuta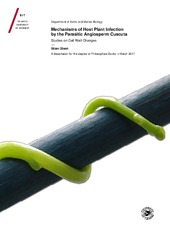 View/Open
Thesis (PDF)
Paper I: Johnsen, H. R., Striberny, B., Olsen, S., Vidal-Melgosa, S., Fangel, J. U., Willats, W. G., Rose, J. K., Krause, K.: "Cell wall composition profiling of parasitic giant dodder (Cuscuta reflexa) and its hosts: a priori differences and induced changes". Also available in
New Phytologist 2015, 207(3):805-816.
(PDF)
Paper II: Olsen S., Striberny, B., Hollmann, J., Schwacke, R., Popper, Z. A., Krause, K.: "Getting ready for host invasion: elevated expression and action of xyloglucan endotransglucosylases/hydrolases in developing haustoria of the holoparasitic angiosperm Cuscuta". Also available in
Journal of Experimental Botany 2016, 67(3), 695-708.
(PDF)
Date
2017-05-12
Type
Doctoral thesis
Doktorgradsavhandling
Abstract
The highly adapted parasitic plants of the genus Cuscuta infect other plants to steal their water and nutrients. They do so by developing specialized organs called haustoria that grow into the tissue of the host plant establishing interspecies connections through which the parasite feeds. Although it has long since been suggested that some manner of modification to host cell walls is necessary to allow the invasive growth of the haustorium, little is known about what specific wall components are altered and what actors facilitate these changes. In this thesis, the process of infection was investigated from multiple angles to shed light on the mechanisms underlying host tissue penetration by the Cuscuta haustorium. The analysis of cell wall compositions and wall-localized enzyme activities in host and parasite revealed that the walls of both plants are changed during infection and further indicated that specific wall constituents in host cell walls could provide resistance against Cuscuta. A screen for Cuscuta genes whose expression levels were increased upon the onset of haustorium development identified several cell wall-related genes and some encoded products whose function could explain the wall changes detected in the previous study. We found that a specific class of cell wall-modifying enzymes, the xyloglucan endotransglucosylases/hydrolases, are secreted from the haustorium and that their activity is essential for host invasion. Genetic transformation is an indispensable tool to test the functions of candidate infection genes. To this end, the transient expression of transgenes in the parasitic plant was achieved and initial tests toward the regeneration of transgenic Cuscuta were performed. These accomplishments have increased our understanding of Cuscuta parasitization and will assist the development of new control strategies that are needed to efficiently combat parasitic plants in agricultural areas.
Description
The papers III and IV of this thesis are not available in Munin.
Paper III: Olsen, S., Popper, Z. A., Krause, K.: «Two sides of the same coin: Xyloglucan endotransglucosylases/hydrolases in host infection by the parasitic plant Cuscuta". Available in
Plant Signaling and Behavior 2016, 11(3).
Paper IV: Olsen, S., Krause, K.: «Are xyloglucan endotransglucosylases/hydrolases the keys to host invasion by the parasitic plant Cuscuta reflexa?". (Manuscript).
Publisher
UiT The Arctic University of Norway
UiT Norges arktiske universitet
Collections
Copyright 2017 The Author(s)
The following license file are associated with this item: