Creating a better play store for cancer apps by using the meta data. Is the metadata available enough to improve app finding for apps related to cancer?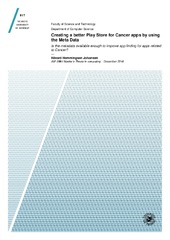 View/Open
(PDF)
Source code (Unknown)
The database, containing the Google Play Store metadata (Unknown)
Date
2016-12-15
Type
Master thesis
Mastergradsoppgave
Abstract
The current app store is minimalistic and gives a minimum of functionality, there are in principle two options, a list of recommended apps and the search function. Where the search function is as good as the user is able to come up with search words. The question then is; is it possible to create a third party app that works as an overlay and give a more useful result. In order to make the problem more approachable and to take advantage of work done by others before this thesis focuses on cancer related apps [1, 2] Unfortunately there is not enough data in the metadata in order to create such a system, with a meaningful improvement in result. Another big problem is there are really an extremely small number of users a system like this will be targeted at both this version, but also a general version.
Publisher
UiT Norges arktiske universitet
UiT The Arctic University of Norway
Collections
Copyright 2016 The Author(s)
The following license file are associated with this item: