Gut metagenomics in relation to diet and methanogenesis in arctic herbivores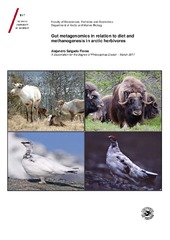 View/Open
Thesis (PDF)
Paper I: Salgado‐Flores, A., Hagen, L. H., Ishaq, S. L., Zamanzadeh, M., Wright, A. D., Pope, P. B., Sundset, M. A.: "Rumen and Cecum Microbiomes in Reindeer (Rangifer tarandus tarandus) Are Changed in Response to a Lichen Diet and May Affect Enteric Methane Emissions". Also available in
PLoS ONE 2016, 11:e0155213.
(PDF)
Paper II: Salgado‐Flores, A., Bockwoldt, M., Hagen, L. H., Pope, P. B., Sundset, M. A.: "First insight into the faecal microbiota of the high Arctic muskoxen (Ovibos moschatus). Also available in
Microbial Genomics, 2016.
(PDF)
Date
2017-06-01
Type
Doctoral thesis
Doktorgradsavhandling
Abstract
Enteric methane (CH4) from gut microbial fermentation of complex organic polymers in ruminants comprises an important source of the anthropogenic CH4 emissions and may also represent a significant loss of metabolic energy to the host animal depending on diet. CH4 is produced by specialized microbes called methanogens. Extensive research exists on enteric CH4 production and methanogens in domestic ruminants, but little is known about arctic herbivores. Reindeer (Rangifer tarandus tarandus), muskox (Ovibos moschatus), and rock ptarmigan (Lagopus muta), typically consume plants rich in toxic plant secondary metabolites (PSMs). PSMs may depress enteric CH4 production in high concentrations. The objective of this PhD project was to characterize the gut microbiome from these animals, with special emphasis on CH4 metabolism and related to diets high in PSMs. Investigating the microbiology of methanogenesis would help better understand their digestive physiology. Molecular biology techniques were used for these studies: quantitative real-time PCR, amplicon sequencing, and shotgun metagenomics. Reindeer fed lichens (high in PSMs) and muskoxen feeding on an autumn pasture presented increased proportions of methanogens (Methanobrevibacter ruminantium and Methanobrevibacter olleyae) that may be related to the low CH4 output previously described for these ruminants. Housing methanogens with expected low CH4 potentials might result in reduced energy losses in reindeer. Other factors apart from high PSMs contents may account for the presence of these methanogens. Rock ptarmigans mostly contained methanol-utilizing methanogens, potentially related to methanol production from pectin degradation. This thesis presents the first molecular study of the gut microbiota in muskoxen and rock ptarmigans. Muskoxen possessed bacteria mediating fiber degradation, which would allow them live off fibrous plants like graminoids. Rock ptarmigans presented a diverse microbiota with bacteria involved in PSMs degradation and a variable range of polysaccharides (e.g. hemicellulose, starch). In both cases, their gut microbiota would allow them utilizing the available food.
Description
Paper III of this thesis is not available in Munin.
Paper III: Salgado‐Flores, A., Tveit, A. T., Wright, A. D., Pope, P. B., Sundset, M. A.: "Characterization of the cecum microbiome from wild and captive rock ptarmigans from Svalbard and northern Norway in relation to diet composition". (Manuscript).
Publisher
UiT The Arctic University of Norway
UiT Norges arktiske universitet
Collections
Copyright 2017 The Author(s)
The following license file are associated with this item: