Architecture for generic service development on mobile handsets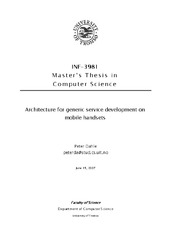 View/Open
Thesis (PDF)
Zip-arkivert fil med kildekode (Unknown)
Date
2007-06-15
Type
Master thesis
Mastergradsoppgave
Abstract
Several actors are involved in all layers the handset architecture, from hardware producers to service providers, and the numbers are raising. Lack of collaboration amongst these actors across and within layers has led to a complex development-process of services and applications, which in turn leads to difficult use of such applications and services. In this thesis we took a closer look at the mobile phone, examined challenges surrounding development and use of services on mobile phones, and found initiatives by actors to handle these challenges. This knowledge was used to design and implement a solution to handle identified challenges. The solution involves using the UICC as the main application platform and container of state, with the possibility to deploy handset-specific parts of an application on the handset. Standardized tools on the handset give UICC-applications the means to communicate with external processes and users. In addition the network operator is given an important role to administrate and adapt applications on the UICC as services change communication technology and application standard. The designed architecture facilitates more widespread development and use of services on the mobile handset. The architecture is realizable through current platforms and standards. By implementing a simulation and subset of our design on a handset the design was substantiated.
Publisher
Universitetet i Tromsø
University of Tromsø
Collections
Copyright 2007 The Author(s)
The following license file are associated with this item:
Related items
Showing items related by title, author, creator and subject.
Haldar-Iversen, Sondre

(

Mastergradsoppgave; Master thesis

,

2020-11-15

)

Data compression is a field that has been extensively researched. Many compression algorithms in use today have been around for several decades, like Huffman Coding and dictionary coding. These are general-purpose compression algorithms and can be used on anything from text data to images and video. There are, however, much fewer lossless algorithms that are customized for compressing certain types ...

Tedeschi, Enrico

;

Nordmo, Tor-Arne Schmidt

;

Johansen, Dag

;

Johansen, Håvard D.

(

Journal article; Tidsskriftartikkel; Peer reviewed

,

2022-04-09

)

The transaction-rate bottleneck built into popular proof-of-work-based cryptocurrencies, like Bitcoin and Ethereum, leads to fee markets where transactions are included according to a first-price auction for block space. Many attempts have been made to adjust and predict the fee volatility, but even well-formed transactions sometimes experience unexpected delays and evictions unless a substantial ...

Johansen, Bjørn Ludvig Langaas

(

Master thesis; Mastergradsoppgave

,

2016-06-01

)

Enterprise wireless networks are becoming larger and larger, with more and more users and devices connecting to the networks. This requires the infrastructure to be closely monitored and adjusted to ensure an optimum experience for users and their devices. Existing proprietary solutions exist, but are either costly, resource demanding, rigid or may not be able to deliver the functionality that is ...