Antibacterial and anti-biofilm activity of novel marine natural product mimics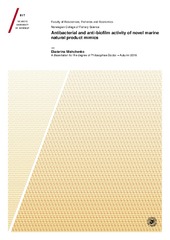 View/Open
Thesis introduction. (Parts of the introduction is temporarily suppressed) (PDF)
Igumnova, E. M., Mishchenko, E., Haug, T., Blencke, H-M., Sollid, J. U. E., Fredheim, E. G. A., ... Strøm, M. B. (2016): "Synthesis and antimicrobial activity of small cationic amphipathic aminobenzamide marine natural product mimics and evaluation of relevance against clinical isolates including ESBL–CARBA producing multi-resistant bacteria",
Bioorganic & Medicinal Chemistry, 24, 5884–5894
(PDF)
Date
2017-01-20
Type
Doctoral thesis
Doktorgradsavhandling
Abstract
Infectious diseases represent an urgent public health problem globally. Particularly healthcare-associated infections are often complicated by antibiotic resistance and presence of recalcitrant microbial biofilms. On the hunt for effective antibiotics with novel mechanisms of action (MOA), researchers look into largely unexplored natural environments with high biodiversity like the oceans, rich in unique natural compounds. In this project, we evaluated the antibacterial potential of a library of synthetic marine natural product mimics (MNPMs) in collaboration with a PhD project in chemistry, both parts of MabCent CRI, Centre for Research-based Innovation on Marine Bioactivities and Drug Discovery. The MNPM library that included 52 compounds, was tested for antibacterial activity in a multi-step screening workflow. An initial screening against six reference bacterial strains was followed by validation in an expanded screening against panels of clinical isolates. In addition to an overall promising activity against common human pathogens, MNPMs were selectively active in vitro against Gram-positive bacteria. Several MNPMs were active against biofilms of the opportunistic pathogen Staphylococcus epidermidis. MOA studies with some selected MNPMs indicated membrane disruption as their primary killing mechanism in Gram-positive bacteria. This mechanism could also explain the anti-biofilm properties of these compounds. Selected compounds did not induce antibiotic resistance development in a serial passage assay. The ability of MNPMs to eradicate biofilm varied between the biofilms of two different S. epidermidis strains. Furthermore, phenotypic variation of biofilms of S. epidermidis strain RP62A was studied. Overall, MNPM candidates characterized in this work, can be used as the leads for further development of antibacterial agents for treatment of chronic infections, often biofilm-associated. Our interdisciplinary approach and screening workflow has a potential to become a well-fitted platform for lead identification, optimization and MOA studies.
Description
Papers number II, III and IV are not available in Munin:
Paper II: Igumnova, E. M., Mishchenko, E., Haug, T., Blencke, H-M., Sollid, J. U. E., Fredheim, E. G. A., ... Strøm, M. B.: "Design and synthesis of amphipathic sulfonamidobenzamides mimicking small antimicrobial marine natural products and investigation of antimicrobial activity against clinical and multi-resistant isolates, and anti-biofilm activity against Staphylococccus epidermidis" (manuscript).
Paper III: Mishchenko, E. S., Igumnova, E. M., Fredheim, E. G. A., Blencke, H-M., Haug, T., Strøm, M. B., ... Stensvåg, K.: "Antibacterial activities and mechanism of action studies of small Marine Natural Product Mimics (MNPMs), G2 and E23" (manuscript)
Paper IV: Mishchenko, E. S., Igumnova, E. M., Blencke, H-M., Fredheim, E. G. A., Haug, T., Stensvåg, K., ... Sollid, J. U. E. : "Staphylococcus epidermidis RP62A phenotypic variation in anti-biofilm screening" (manuscript).
Publisher
UiT The Arctic University of Norway
UiT Norges arktiske universitet
Collections
Copyright 2017 The Author(s)
The following license file are associated with this item: