Exploring social influences on children's food attitudes and consumption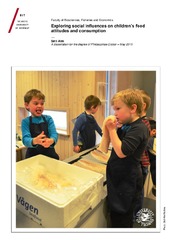 View/Open
Thesis (PDF)
Paper 2: Alm, S., Olsen, S. O. & Honkanen, P. (2015) The role of family communication and parents' feeding practices in children's food preferences. Also available in
Appetite 89: 112–121.
(PDF)
Paper 4: Alm, S. & Olsen, S.O. (2015). Participatory photo interviews for exploring children's food preferences. (Manuscript). Published version with title "Using photo interviews to explore children's food preferences" available in
Int J Consum Stud. 2017, 41:274–282.
(PDF)
Date
2015-06-27
Type
Doctoral thesis
Doktorgradsavhandling
Abstract
Purpose: In light of the increasing numbers of overweight children observed today who follow inadequate diets, this dissertation mainly explored how children are socialised as food consumers. An additional purpose was to explore the advantages of using participatory photo interviews while researching children's attitudes and behavioural patterns with respect to two food contexts, namely, lunch in kindergartens and shared dinners at home. Four research questions were addressed by four different papers. Paper 1 explored the role of mere exposure and norms in children's attitudes to seafood (RQ 1). Paper 2 explored the role of family communication and parents' feeding practices in children's food preferences (RQ 2). Paper 3 explored the role of time stress coping strategies in children's food consumption (RQ 3). Paper 4 discussed the methodological advantages and disadvantages of participatory photo interviews in exploring children's dinner preferences (RQ 4). Methodology: Two qualitative methods were applied to explore the research questions of the dissertation. Paper 1 employed interviews of 24 children, aged four to six, in pairs, while papers 2–4 used participant photo interviews with 12 children, aged seven to eight, and their parents. Analyses for papers 1 and 2 were conducted by directed content analysis, while paper 3 applied conventional content analysis. Analysis for paper 1 was conducted manually, while the others used the NVivo 10 qualitative data analysis software. Several ethical precautions were taken to ensure children's voluntary and informed consent to participate in research. Findings: Paper 1 found that children with high seafood exposure used more cognitive associations by describing seafood as healthy. They also expressed more positive attitudes towards seafood compared to children with low seafood exposure. The findings indicated a stronger socialisation effect from parents than preschool teachers due to the lack of descriptive norms in kindergarten. Paper 2 found that most families were conversation-oriented and communication tended to shift from consensual on weekdays to pluralistic on weekends. On weekdays, the dinner menu was often a compromise between children's preferences and parents' intentions to provide quick, healthy dinner options for the family. However, to a greater extent on weekends, children were allowed to choose dinner alternatives for the entire family. Restriction of unhealthy dinner alternatives was the practice most used to control children's diets. Paper 3 found that children's participation in sport activities made families feel stressed due to pressures of time. Unhealthy food consumption during busy days was often a consequence of substituting snacks for traditional dinners and avoiding food preference conflicts with children. Confidence in cooking, meal planning skills and engaging children and grandparents in cooking improved families' food consumption, whereas low confidence in cooking and planning skills was more likely to result in unhealthy food consumption. By using compensating behaviour, most families treated weekend dinners as a family reward and as a chance to make up for time-stressed weekdays; thus, in some cases, they tended to choose popular foods over healthy ones on those occasions. Paper 4 found that participant photo interviews helped children remember and describe sensory, cognitive and affective situational associations of their meals with increased confidence. This approach helped explore interesting aspects of children's preferences, such as their taste experiences, the importance of controlling and choosing meal ingredients and ambivalent food preferences. The observed disadvantages were parental involvement during data collection and the potential for sensitive information to be revealed. Conclusion and implications: To promote a healthier diet, children's caregivers should make healthy food alternatives more easily available to children. It is important that they eat meals together with the children in order to function as positive role models. Children should be given control of what they eat and caregivers should be responsive to children's preferences while guiding them towards healthy dinner alternatives, rather than use force and restriction. Future food interventions should aim at improving parents' cooking and planning skills, as well as engaging other family members in cooking dinners. Participant photo interviews are a promising methodological approach to invite children into research on food attitudes, preferences and consumption behaviours.
Description
The paper 1 of this thesis is not available in Munin.
Paper 1: Alm, S. & Olsen, S. O. (2015) Exploring seafood socialization in the kindergarten: An intervention's influence on children's attitudes. Available in
Young Consumers 16(1): 36 –49.
Accepted manuscript version available in Munin at
http://hdl.handle.net/10037/10130.
Publisher
UiT The Arctic University of Norway
UiT Norges arktiske universitet
Collections
Copyright 2015 The Author(s)
The following license file are associated with this item: