Octaiodoporphyrin and Octaiodocorrole: Isolation of a Cis Porphyrin Tautomer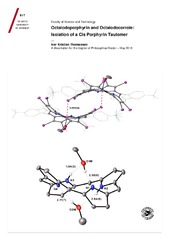 View/Open
thesis introduction (PDF)
Thomassen, I.K., McCormick, L.J. & Ghosh, A. (2018). Synthesis and Molecular Structure of a Copper Octaiodocorrole. Also available in
ACS Omega, 3(5), 5106-5110.
(PDF)
Date
2018-09-28
Type
Doctoral thesis
Doktorgradsavhandling
Abstract
Iodinated aromatics are excellent starting materials for further elaboration via transition-metal-catalyzed cross-coupling reactions. Considering the diverse applications of porphyrins and corroles - as photosensitizers in photodynamic therapy, dye sensitized solar cells, near-infrared dyes, gas sensors, nonlinear optical materials, and catalysts - the synthetic potential of β-polyiodinated or octaiodinated porphyrins and corroles may be considerable. As part of my doctoral studies, I have synthesized and structurally characterized the first examples of both β-octaiodinated porphyrins and β-octaiodinated corroles. Furthermore, a single-crystal X-ray structure of free base β-octaiodoporphyrin provided an example of a cis porphyrin tautomer, the long hypothesized intermediate of porphyrin NH tautomerism.
Description
Paper A and paper B with supporting information are not available in Munin.
Paper A: Thomassen, I.K., Vazquez-Lima, H., Gagnon, K.J. & Ghosh, A. (2015). Octaiodoporphyrin. Available in Inorganic Chemistry, 54(23), 11493-11497.
Paper B: Thomassen, I.K., McCormick, L.J & Ghosh, A. (2018). Molecular Structure of a β-Octaiodo-meso-tetraarylporphyrin. A Rational Route to cis Porphyrin Tautomers? (Manuscript). Published version, with altered title, available in Crystal Growth & Design, 18(8), 4257-4259.
Publisher
UiT Norges arktiske universitet
UiT The Arctic University of Norway
The following license file are associated with this item: