Assessing the relationship between living benthic foraminifera and methane emission in the Arctic Ocean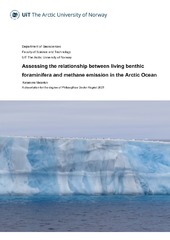 View/Open
Thesis introduction & Paper 2 (PDF)
Entire thesis in one comprehensive file (PDF)
File(s) with restricted access are under embargo until
2023-11-04
Date
2021-11-04
Type
Doctoral thesis
Doktorgradsavhandling
Abstract
Methane is a powerful greenhouse gas. In marine environments, it is buried deep in the sediments in the form of gas hydrate, an ice-like structure. Due to its form, gas hydrate is sensitive to changes in temperature and pressure. Because of that, the ongoing climate change can trigger destabilization of its sub-seabed deposits. This may result in a release of great amounts of methane into the atmosphere. Methane seepage events have occurred in the past and were recorded in the isotopic signature of calcareous tests (shells) of fossil foraminifera. However, not much is known about the possible impact of methane-affected sediments on the living foraminiferal fauna, e.g. in the cold seeps. Due to the hostile conditions within a cold seep, such as low oxygen and elevated carbon dioxide concentration, it remains unclear if benthic foraminifera build their tests during methane emission events and whether, and to what extent, live foraminifera incorporate methane-derived carbon during biomineralization. This knowledge is crucial to establish foraminifera as a reliable tool in tracking methane emissions. The main focus of this thesis was to investigate the response of foraminifera to the combined effect of low oxygen and elevated carbon dioxide concentration in a laboratory setting, replicating conditions that commonly occur in cold seeps. Secondly, this thesis investigates modern foraminiferal assemblages using fluorescence viability assays and a conventional method, Rose Bengal staining. Fluorescence probes react exclusively with metabolically active foraminifera, and so this method distinguishes live foraminifera from the recently dead individuals, creating a more detailed picture of the modern foraminiferal fauna in the study area. Finally, I was able to determine that methane-derived carbon can shift the δ13C signature of living (Rose Bengal-stained) foraminifera towards lower δ13C values, which is linked to methane-related processes, such as aerobic (MOx) and anaerobic methane oxidation (AOM). Active methane seepage did not markedly affect the isotopic signature (δ13C) of primary calcite in metabolically active foraminifera in this study. This work not only advances our understanding of the mechanisms of foraminiferal response to methane seepage events but also facilitates their use in future studies of methane emissions.
Has part(s)
Paper 1: Melaniuk, K., Bernhard, J.M., Hald, M. & Panieri, G. Impact of hypoxia and high pCO2 and diet on benthic foraminiferal growth: experiment with propagules. (Manuscript).
Paper 2: Melaniuk, K. (2021). Effectiveness of Fluorescent Viability Assays in Studies of Arctic Cold Seep Foraminifera. Frontiers in Marine Science, 8, 587748. Also available in Munin at https://hdl.handle.net/10037/21033.
Paper 3: Melaniuk, K., Sztybor, K., Treude, T., Sommer, S. & Rasmussen, T.L. Evidence for influence of methane seepage on isotopic signatures in living deep-sea foraminifera, 79 °N. (Manuscript).
Paper 4: Melaniuk, K., Sztybor, K., Treude, T., Sommer, S., Zajączkowski, M. & Rasmussen, T.L. Response of benthic foraminifera to ecological succession in cold seeps from Vestnesa Ridge; implications for interpretations of paleo-seepage environments. (Manuscript).
Publisher
UiT Norges arktiske universitet
UiT The Arctic University of Norway
Collections
Copyright 2021 The Author(s)
The following license file are associated with this item: