Studies of infectious pancreatic necrosis virus (IPNV) and immune evasion strategies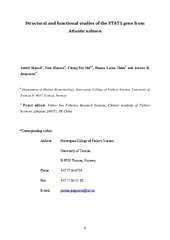 View/Open
Astrid Skjesol, Tom Hansen, Cheng-Yin Shi, Hanna Leena Thim and Jorunn B. Jørgensen: «Structural and functional studies of the STAT1 gene from Atlantic salmon», manuscript, later published with CC-license in BMC Immunology 2010, 11:17 (BioMed Central), http://dx.doi.org/doi:10.1186/1471-2172-11-17 (PDF)
Thesis introduction (PDF)
Date
2009-10-23
Type
Doctoral thesis
Doktorgradsavhandling
Abstract
Infectious pancreatic necrosis (IPN) is a highly contagious disease which causes huge economic loss to the salmon farming industry world wide. The causative agent, the IPN virus (IPNV), is a dsRNA, non-enveloped virus with two genomic segments encoding five viral proteins, VP1-VP5.
Available vaccines against this disease give only partial protection. In order to optimize vaccine efficacies, properties of the virus and virus-host interactions during an infection need to be elucidated. In this thesis, interactions between the individual viral proteins are described and functional analyses of the interactions performed. VP3 was found to be a key organizer in the viral particle, as it binds both to other VP3 proteins, to the VP1 RNA-dependent RNA-polymerase and to the viral genome. The different binding domains were mapped.
Elucidation of fish defense against virus infections is also essential. Interferons (IFNs) act as "alarm" proteins and are produced upon viral infections. Most viruses have evolved strategies to avoid host defense. This is also true for IPNV. Treatment of uninfected cells with IFN makes the cells resistant to IPNV infection, whereas addition of IFN after the onset of viral replication enables the IPN virus to overcome host defense, and reduce the antiviral activity. Thus, IPNV has an antagonistic effect on the IFN-signaling pathway (JAK/STAT pathway). We suggest the viral proteins VP4 and VP5 to be implicated in this effect.
STAT1 is a central molecule that is being activated by IFN and participates in up-regulation of antiviral genes. In this work STAT1 from Atlantic salmon has been cloned and found to have properties similar to mammalian STAT1; salmon STAT1 was activated by phosphorylation and translocated from cytoplasm to the nucleus upon stimulation with IFNs.
Infeksiøs pankreas nekrose (IPN) er en smittsom sykdom som rammer laksefisk og forårsaker store økonomiske tap for oppdrettere. Viruset som forårsaker sykdommen, infeksiøst pankreas nekrose virus (IPNV), er et dobbeltrådig RNA (dsRNA) uten en ytre kappe. Virusgenomet består av to dsRNA segmenter som koder for fem proteiner, VP1-VP5.
Dagens vaksiner gir en begrenset beskyttelse mot IPNV. For å optimalisere effekten av vaksinering, er det viktig å bedre forståelsen for hvordan virus og vert interagerer med hverandre under en infeksjon. Her beskrives fysiske interaksjoner mellom ulike virusproteiner og betydningen av disse. VP3 har en sentral rolle i viruspartikkelen fordi det binder seg både til andre VP3 proteiner, til VP1 polymerasen og til virusgenomet. De ulike domenene for binding er kartlagt.
Det er også viktig å kartlegge hvordan fisken forsvarer seg mot virusinfeksjoner. Interferoner (IFNs) er alarmproteiner som produseres ved virusinfeksjoner. Gjennom evolusjonen har mange virus utviklet strategier for å unngå vertens forsvar. Dette gjelder også for IPNV. Tilsetning av IFN gjør uinfiserte celler svært motstandsdyktige mot IPNV. Da evner ikke viruset å gjennomføre egen proteinsyntese og dannelsen av nye viruspartikler blokkeres. Hos celler som er infisert med IPNV før de behandles med IFN, klarer IPNV "å slå tilbake" slik at uttrykket av antivirale gener i vertscella dempes. Viruset har altså strategier for å hemme signalveien nedstrøms for IFN, den såkalte JAK/STAT signalveien. Vi foreslår at VP4 og VP5 er kandidater til denne "motstandsfunksjonen".
STAT1 er et viktig molekyl som aktiveres av IFN og bidrar til oppregulering av antivirale gener. Vi har klonet STAT1 fra atlantisk laks og vist at i likhet med pattedyr blir laksens STAT1 aktivert ved fosforylering og transportert fra cytoplasma inn til cellekjernen i IFN-stimulerte celler.
Description
Papers number 1 and 2 of the thesis are not available in Munin due to publishers' restrictions:
1. Torunn Pedersen, Astrid Skjesol and Jorunn B. Jørgensen: «VP3, a structural protein of the infectious pancreatic necrosis virus, interacts with the RNA-dependent RNA polymerase VP1 and with double-stranded RNA», Journal of virology; 2007, 81(12), 6652-6663 (American Society for Microbiology). Available at
http://dx.doi.org/10.1128/JVI.02831-06
2. Astrid Skjesol, Toril Aamo, Marit Nøst Hegseth, Børre Robertsen and Jorunn B. Jørgensen: «The interplay between infectious pancreatic necrosis virus (IPNV) and the IFN system: IFN signaling is inhibited by IPNV infection», Virus Research; 2009, 143, 53-60 (Elsevier). Available at
http://dx.doi.org/10.1016/j.virusres.2009.03.004
Publisher
Universitetet i Tromsø
University of Tromsø
The following license file are associated with this item: