Planktonic food webs in the Arctic Ocean : structure and function in contrasting seasons and physical settings across Fram Strait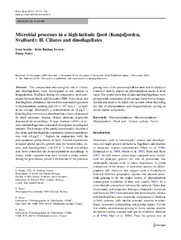 View/Open
Seuthe L, Rokkan Iversen K and Narcy F.: 'Microbial processes in a high-latitude fjord (Kongsfjorden, Svalbard): II. Ciliates and dinoflagellates', Polar Biology (2011) 34:751– 766. (PDF)
Rokkan Iversen K and Seuthe L: 'Seasonal microbial processes in a high-latitude fjord (Kongsfjorden, Svalbard): I. Heterotrophic bacteria, picoplankton and nanoflagellates', Polar Biology (2011) 34:731–749. (PDF)
Thesis introduction (PDF)
Date
2011-12-08
Type
Doctoral thesis
Doktorgradsavhandling
Abstract
This thesis investigates the structure and function of planktonic food webs at two sites between Greenland and the Svalbard Archipelago, covering a coastal ecosystem influenced by Atlantic water masses (Kongsfjorden, 78º N) and a more oceanic system off the East Greenlandic shelf, influenced by the outflow of Arctic water and sea ice from the Arctic Ocean (northwest Fram Strait, 75 - 80º N). In Kongsfjorden, a seasonal study was conducted with sampling at six occasions between March and December 2006. Logistical constrains prohibited a similar extensive seasonal investigation in the ice-covered waters of northwest Fram Strait. Sampling fell into the onset (April-May 2008) and end (September 2006/2007) of the productive season. All four studies investigated the stocks of pico- to micro-sized autotrophs and heterotrophs, i.e. heterotrophic bacteria, proto- and metazooplankton. Production rates of autotrophs and heterotrophic bacteria were measured in Kongsfjorden. Ratios of heterotrophic and autotrophic biomass (H:A) and of specific bacterial and primary production (µBac:µPhyto) allowed to asses the overall structure and function of the investigated planktonic food webs and to compare them to published data from other Arctic regions. The emerging picture provides three distinct food web modes, where mode A is characterized by H:A < 1 and µBac:µPhyto > 1, new production, and large-celled phytoplankton. Mode B and C are characterized by dominance of heterotrophs (H:A > 1), more regenerated production, and small-celled phytoplankton. The difference between mode B and C is a difference in the specific production ratio, with µBac:µPhyto smaller and larger 1, respectively. According to this scheme, Arctic plankton communities appear to prevail under mode B and C most of the year. In Kongsfjorden, e.g. five of the six months sampled fell under mode B and C, with mode C being typical for light-limited winter communities. From own and literature data, it is suggested that the food web mode controlling physical factors are the amount of incident photosynthetically active radiation (PAR), ice cover, nutrient concentration, and water column stability. Due to an approximately latitudinal change in these physical settings, the relative prevalence of the three food web modes changes from the marginal seas to the central Arctic Ocean, with mode A most likely being absent from the highest latitude waters. In general, Arctic plankton communities appear to sustain on average a 3-fold higher H:A biomass ratio for a given phytoplankton stock than the world's coastal oceans, which may mainly be due to extensive import of long-lived copepods from sub-Arctic European seas through advection. It is argued that the large stock of heterotrophs plays a crucial role in structuring Arctic plankton communities, with the potential to prohibit phytoplankton bloom formation (mode A) through extensive grazing.
Description
Paper 3 and 4 of this thesis are not available in Munin:
3. Seuthe L, Töpper B, Reigstad M, Thyrhaug R and Vaquer-Sunyer R: 'Microbial communities and processes in ice-covered Arctic waters of the northwestern Fram Strait (75 – 80ºN) during the vernal pre-bloom phase', Aquatic Microbial Ecology (2011) 64:253-266. Available at
http://dx.doi.org/10.3354/ame01525
4. Svensen C, Seuthe L, Vasilyeva Y, Pasternak A and Hansen E: 'Zooplankton communities across Fram Strait in autumn : are small copepods and protozooplankton important? (in press in Progress in Oceanography).
Publisher
University of Tromsø
The following license file are associated with this item: