A multidisciplinary subsurface analysis of mud volcanoes and salt diapirs in European Seas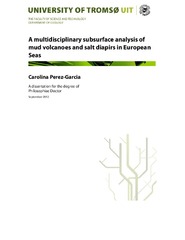 View/Open
Thesis introduction (PDF)
Perez‐Garcia, C., C. Berndt, D. Klaeschen, J. Mienert, L. Haffert, D. Depreiter, and M. Haeckel: 'Linked halokinesis and mud volcanism at the Mercator mud volcano, Gulf of Cadiz', Journal of Geophysical Research (2011), vol. 116, B05101. (PDF)
Date
2012-09-13
Type
Doctoral thesis
Doktorgradsavhandling
Description
Papers 1, 3 and 4 of this thesis are not available in Munin:
1. Perez-Garcia C., Feseker T., Mienert J. and Berndt C.: 'The Håkon Mosby Mud Volcano : 330 000 years of focused fluid flow activity at the SW Barents Sea slope', Marine Geology (2009), vol.262:105-115. Available at
http://dx.doi.org/10.1016/j.margeo.2009.03.022
3. Haffert L., Haeckel M., V. Liebetrau, C. Berndt, M. Nuzzo, A. Reitz, F. Scholz, J. Schönfeld, C. Perez-Garcia and S.M. Weise: 'Fluid evolution and authigenic mineral paragenesis related to salt diapirism : the Mercator mud volcano in the Gulf of Cadiz' (manuscript).
4. Perez-Garcia, C., Safronova, P., Mienert, J., Berndt, C. and Andreassen, K.: 'Extensional rise and fall of a salt diapir in the Sørvestsnaget Basin, SW Barents Sea' (manuscript)
Publisher
Universitetet i Tromsø
University of Tromsø
Collections
Copyright 2012 The Author(s)
The following license file are associated with this item: