Geophysical characterizations of fluid flow and gas-hydrate systems of the NW-Svalbard and SW-Barents Sea margins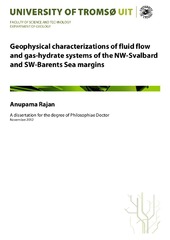 View/Open
Thesis introduction (PDF)
Anupama Rajan, Jürgen Mienert, Stefan Bünz, and Shyam Chand: 'Potential serpentinization, degassing, and gas hydrate formation at a young (<20 Ma) sedimented ocean crust of the Arctic Ocean ridge system', Journal of Geophysical Research: Solid Earth (2012), vol. 117, Issue B3. Available at
http://dx.doi.org/10.1029/2011JB008537
(PDF)
Date
2013-02-06
Type
Doctoral thesis
Doktorgradsavhandling
Abstract
The thesis consists of four parts and its four main objectives are: (1) to establish a potential link between serpentinization beneath a young sedimented-ocean ridge and carbon release and gas hydrate formation directly above it, (2) to understand the coexistence of free gas and gas-hydrate and to image the geophysical evidence for a geologically controlled gas hydrate, fluid migration pathway and seabed expulsion system, (3) to image the active fluid flow migration path-networks from deep hydrocarbon sources and to assess the distribution of shallow gas accumulation, and (4) to determine in detail the seismic velocity structure of the regions close to the landward limit of hydrate stability zone. The methodology implemented to realize this aims was achieved by integrating 3D seismic imaging, 1D velocity modeling to 2D seismic imaging and bathymetric and oceanographic data mapping. This PhD thesis presents results from four articles that glean into the fluid flow and gas-hydrate systems of the NW-Svalbard and SW-Barents Sea margins. The important results found during this research are: (1) new evidence for carbon release from the deep-seated source rock through the sediments above diapirism and methane capture in the inferred areas of serpentinization at the Knipovich Ridge, (2) new geophysical evidence for gas migration and geologically controlled gas hydrate system offshore NW-Svalbard, where several existing glacigenic debris flow units, which are spatially confined and influence gas migration pathways and hence, the location of gas leakage zones at the seafloor and (3) first findings of the formation of "tilted" bottom-simulating reflector in the SW-Barents Sea. They have formed due to variations in fluid flux along regions of deep-seated fault complexes causing a change in heat flow. The data also provides new evidence for the connection of deep-hydrocarbon and shallow gas hydrate, where existing fault complexes apparently act as pathways for the upward migration of fluids.
Description
Papers 2, and 4 of this thesis are not available in Munin:
2. Rajan, A., J. Mienert, and S. Bünz: 'Acoustic evidence for a gas migration and release system in Arctic glaciated continental margins offshore NW-Svalbard', Marine and Petroleum Geology (2012), vol.32(1):36-49. Available at
http://dx.doi.org/10.1016/j.marpetgeo.2011.12.008
3. Anupama Rajan, Stefan Bünz, Jürgen Mienert and. Andrew J. Smith: 'Tilted bottomsimulating reflectors (TBSRs) provide evidence for active fluid flow from deep hydrocarbon sources in the SW-Barents Sea' (manuscript)
4. Anupama Rajan, Tim A. Minshull and Jürgen Mienert: 'Heterogeneous distribution of gashydrate and free gas in glaciated sediments of the NW-Svalbard continental margin inferred from changes in compressional wave velocity' (manuscript).
Publisher
Universitetet i Tromsø
University of Tromsø
Collections
Copyright 2013 The Author(s)
The following license file are associated with this item: