Coastal Communities and Employment Systems: Networks and communities in change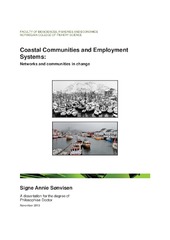 View/Open
Thesis introduction (PDF)
Sønvisen, Signe Annie; Johnsen, Jahn Petter; Vik, Jostein: 'he Norwegian coastal employment system: What It Was and What It Is', Maritime Studies (2011), vol. 10 (1):31 - 56 (PDF)
Signe Annie Sønvisen: ' Recruitment to the Norwegian fishing fleet: storylines, paradoxes, and pragmatism in Norwegian fisheries and recruitment policy', Maritime Studies (2013), vol. 12 (8) (PDF)
Date
2013-11-29
Type
Doctoral thesis
Doktorgradsavhandling
Abstract
Gitt at norske fiskerier har gjennomgått store endringer side 1970-tallet, med utgangspunkt i Jentoft and Wadel (1984), utforsker dette arbeidet det moderne sysselsettingssystemet på kysten, hvordan det har endret seg og hva effekten har vært på kystsamfunn. Studien viser at relasjonene mellom fiskeriene og kystsamfunnene har endret seg. På 1970-talet var sysselsettingssystemet preget av et helhetlig nettverk av gjensidig avhengighet mellom fiskeriaktørene. I dag ser vi utviklingen av et mer og mer formalisert, spesialisert og profesjonalisert fiskerisysselsettingssystem. Dagens rekrutteringspolitikk er knyttet til ideologi og teori, enten økonomiske teorier eller teorier om bygdeutvikling. På grunn av endringene i fiskeriene og sysselsettingssystemet har nye mekanismer for rekruttering dukket opp, og sammen med dette, nye typer fiskere med nye måter å drifte på. I tillegg så viser studien at fiskerne har et større mangfold av operative tilpasninger og at flere virkeligheter eksisterer side om side. Derfor, en politikk basert på utdatert kunnskap gir usammenhengende og motstridene politikk. Resultatet er at en ensartet politikk har lite mulighet for å lykkes, dette inkluderer politiske mål som å opprettholde lokalsamfunn og sysselsetting. For eksempel, når økt fartøystørrelse svekker flåtens relasjon til kystsamfunnene, vil en politikk som fører til større fartøy undergrave fiskeripolitiske mål knyttet til samfunnshensyn. Gitt de mange tilpasninger og virkeligheter i fiskeriene, skal fiskeripolitikken bidra til å opprettholde rådende bosettingsmønster og flåtestruktur, kan en fortsatt differensiering mellom regioner, fylker og flåte være nødvendig. Videre, siden generell fiskeripolitikk også påvirker sysselsetting og rekruttering, må rekrutteringspolitikk sees i sammenheng med generell fiskeripolitikk.
Given that the Norwegian fisheries have undergone large transformation since the 1970s, with a basis in the work carried out by Jentoft and Wadel (1984), this work explores the contemporary Coastal Employment System (CES), how it has changed and what the effects have been on coastal communities. The exploration of the CES finds that the relations between the fisheries and the coastal communities have changed. Whereas the CES was a holistic network of mutually dependent relation between the fisheries actors, the present employment system is more formalized, specialized and professionalized. Rather than a coastal employment system we see the development of a specialized Fisheries Employment System (FES). Present recruitment policy is tied to ideology or theory related to either economic theories or theories of rural development. However, due to changes in the fisheries and the CES, new mechanisms for recruitment emerge, as well as new types of fishers and operational adaptations. In addition, findings show that the fisheries several operational adaptations exist and multiple realities are being enacted. Hence, a policy based on outdated knowledge results in incoherent and contradicting policy. Hence, a "one size fits all" policy is not likely to be successful. Moreover, as policy aims at maintaining local communities and employment. Thus, as increased vessel size weakens the fleet's relation to coastal communities, a policy leading to larger vessels will undermine the fisheries policy objective related to community. Given the multiple adaptations and realities in the fisheries, if fisheries policy shall contribute to maintaining the prevailing settlement pattern and fleet structure, a continued differentiation between regions, counties and fleet segments may be needed. Moreover, as general fisheries policy also affects employment and recruitment, recruitment policy must be seen in relation to this general fisheries policy.
Description
Papers 2, 4 and 5 of this thesis are not available in Munin:
2. Sønvisen, Signe Annie: 'The Recruitment Paradox: Recruitment to the Norwegian Fishing Fleet', In: Fishing People of the North: Cultures, Economies, and Management Responding to Change, Alaska Sea Grant (2012), available at
http://dx.doi.org/10.4027/fpncemrc.2012
4. Signe Annie Sønvisen: 'Contemporary Fisher Images: Ideologies, policies and diversity' (manuscript)
5. Jostein Vik, Jahn Petter Johnsen and Signe Annie Sønvisen: 'Coastal Change: the fisheries policy as regional and social policy', in Rurale brytninger, Haugen, M.S and Stræte, E.P., Tapir Akademisk Forlag (2011).
Publisher
UiT-Norges arktiske universitet
UiT-The Arctic University of Norway
Collections
Copyright 2013 The Author(s)
The following license file are associated with this item: