Permian depositional and environmental development in Svalbard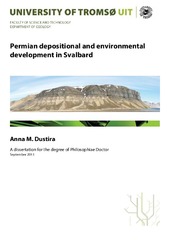 View/Open
Thesis introduction (PDF)
Blomeier, D., Dustira, A.M., Forke, H., Scheibner, C.,: 'Environmental change in the Early Permian of NE Svalbard: from a warm-water carbonate platform (Gipshuken Formation) to a temperate, mixed siliciclastic-carbonate ramp (Kapp Starostin Formation)', Facies (2011), vol. 57(3): 493–523. (PDF)
Date
2013-10-31
Type
Doctoral thesis
Doktorgradsavhandling
Abstract
The main objective of this thesis is to improve the knowledge on the depositional and environmental development of Svalbard during the Permian (299–252 Ma), with a primary focus on the Early to Late Permian Kapp Starostin Formation (Tempelfjorden Group). Thirteen localities of Permian sedimentary strata were investigated with respect to their sedimentological and geochemical properties. Sediments from this period reflect mostly marine deposition on a broad epicontinental shelf at the northern margin of the supercontinent Pangea. Sedimentary facies reveal distinct changes in depositional environment, from marginal/restricted marine settings in a warm and dry climate, to a temperate to cold-water, open-marine shelf. The latter is characterized by cool-water biota including brachiopods, echinoderms, bryozoans and siliceous sponges. These sedimentological shifts are related to a number of controlling factors including changes in palaeolatitude, ocean circulation and upwelling, global climate, and sea level changes. A sequence stratigraphic analysis reveals several orders of relative sea level fluctuations that can be traced within the sediments across the basin, which are likely controlled by a combination of eustasy and local shelf subsidence. By the latest Permian (at the top of the Kapp Starostin Formation), an abrupt loss of biota reflects the End-Permian mass extinction. Geochemical pyrite and stable carbon isotope analyses reveal a gradual onset of marine bottom water oxygen restriction that coincides with the stepwise decrease in biodiversity in the latest Permian.
Description
Papers 2-5 of the thesis are not available in Munin:
2. Blomeier, D., Dustira, A.M., Forke, H., Scheibner, C.: 'Facies analysis and depositional environments of a storm-dominated, temperate to cold, mixed siliceous–carbonate ramp: the Permian Kapp Starostin Formation in NE Svalbard', (manuscipt).
3. Dustira, A.M., Blomeier, D., Collins, D., Goode, T., Groen, R.D.: 'Sequence stratigraphic arrangement and sea-level curve for the Early to Late Permian Kapp Starostin Formation of Svalbard, Norway', (manuscript).
4. Dustira, A.M., Vihtakari, M., Greenacre, M., Blomeier, D.: 'Distinguishing Permian chert facies from Svalbard, Norway on the basis of geochemical criteria', (manuscript).
5. Dustira, A.M., Wignall, P.B., Joachimski, M., Blomeier, D., Hartkopf-Froder, C., Bond, D.P.G.: 'Gradual onset of anoxia across the Permian-Triassic Boundary in Svalbard, Norway', Palaeogeography, Palaeoclimatology, Palaeoecology (2013), vol.374:303–313. Available at
http://dx.doi.org/10.1016/j.palaeo.2013.02.004
Publisher
Universitetet i Tromsø
University of Tromsø
Collections
Copyright 2013 The Author(s)
The following license file are associated with this item: