Studying usage and experiences of mHealth technology for its improved usability - Mixed methods research for understanding users' long-term engagement with the Few Touch application for self-management of Type 2 diabetes mellitus -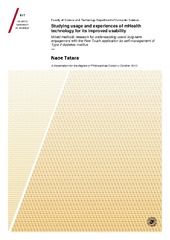 View/Open
Thesis introduction and appendixes (PDF)
Tatara N, Årsand E, Skrøvseth SO, Hartvigsen G.: 'Long-Term Engagement with a Mobile Self-Management System for People with Type 2 Diabetes', JMIR Mhealth Uhealth (2013), vol.1(1) (PDF)
Tatara N, Årsand E, Bratteteig T, Hartvigsen G.: 'Usage and Perceptions of a Mobile Self- Management Application for People with Type 2 Diabetes: Qualitative Study of 5-month Trial', Studies in Health Technology and Informatics (2013), vol. 192:127-31 (PDF)
Date
2014-02-28
Type
Doctoral thesis
Doktorgradsavhandling
Abstract
In spite of a number of mHealth (use of mobile computing for health care) studies targeting people with diabetes, there has not yet been any clear evidence of its effect. Due to obscurity regarding subjects' engagement with each component of the provided technology, it is not clear which factors are important and why. Considering that behavior change is a path of improvement in self-management of Type 2 diabetes mellitus (T2DM), it is crucial to investigate users' usage and experiences of mHealth technology over time. Furthermore, ensuring usability of a technology is essential for the initial uptake and continuous usage of it. This research was conducted in three phases using mixed methods research. In Phases 1 and 2, long-term trials of a mobile phone-based self-help application "the Few Touch application" were carried out by involving two different user groups: one had been involved in the design process from an early stage and the other had not. In Phase 3, design of a food-information database module as a part of improvement of the Few Touch application was carried out by involving users and non-users. The study empirically showed the following: the users basically used and experienced the Few Touch application as a flexible learning tool in terms of self-management of T2DM. Patterns and degrees of usage varied a lot among users and they changed over time depending on each user's needs and background both directly and indirectly relevant to T2DM. This was because motivation for continuation of usage was a result of balancing between expected benefit and effort required to use it. Usability of the technology could be improved by designing it so that it simplifies tedious self-management activities without posing extra effort to use the technology while it enhances the learning process and maximizes its learning effect.
Description
Paper 1, 4 and 5 of this thesis are not available in Munin:
1. Årsand E, Nilsen H, Hartvigsen G.: 'A Review of Mobile Terminal-Based Applications for Self-Management of Patients with Diabetes', Proceedings of International Conference on eHealth, Telemedicine, and Social Medicine (2009), pages 166-175. Available at
http://dx.doi.org/10.1109/eTELEMED.2009.14
4. Tatara N, Årsand E, Hartvigsen G.: 'Patient-user involvement for designing a self-help tool for Type 2 diabetes', in Proceedings of Therapeutic Strategies A Challenge for User Involvement in Design: Workshop in conjunction with NordiCHI2010 (2010), pages 53-55.
5. Tatara N, Bratteteig T.: 'Making it Easy is not so Easy: Interaction Design with Text and Image on a Small Screen' (manuscript).
Publisher
UiT Norges arktiske universitet
UiT The Arctic University of Norway
Collections
Copyright 2014 The Author(s)
The following license file are associated with this item: