Diversity of marine wood-inhabiting fungi in North Norway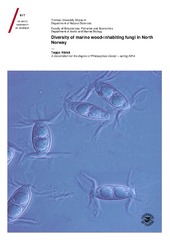 View/Open
Thesis introduction (PDF)
Rämä T, Nordén J, Davey ML, Mathiassen GH, Spatafora JW & Kauserud H.: 'Fungi ahoy! Diversity on marine wooden substrata in the high North', Fungal Ecology (2014), vol. 8: 46–58. (PDF)
Date
2014-05-27
Type
Doctoral thesis
Doktorgradsavhandling
Abstract
Marine fungi in arctic waters have rarely been studied. The main aim of this thesis was to explore the diversity of driftwood inhabiting fungal communities in the cold waters of North Norway. In order to gain as comprehensive view as possible, different methodological approaches were applied on the same study substrates, and the recovered fungal communities were analysed for taxonomic, phylogenetic and ecological aspects of diversity. Altogether 925 operational taxonomic units (OTUs) and species were detected using three different study methods. As a result of the morphological study, one undescribed and 16 new species to Norway were found. With a culturing method, 143 OTUs, based on clustering at 97% sequence similarity of the internal transcribed spacer region (ITS), were detected from 50 driftwood logs. 454 amplicon pyrosequencing revealed 807 OTUs from the same logs and estimated the total diversity in the area to be 1,400 OTUs (97% ITS2 clustering). Approximately 75% of the OTUs had affinity to the phylum Ascomycota, and previously overlooked taxa were detected from the marine environment. Both methods revealed that one half of the OTUs were tentatively non-marine, and that the fungal communities were structured by many geographical and environmental variables. It was shown that the study methods used target different parts of the fungal community with low overlap. The rich and diverse mycota found in this thesis contributes to the global knowledge of wood-inhabiting marine fungi, and suggests that many overlooked and undescribed species exist in this habitat. The diversity was well characterized at higher taxonomic levels, but resolution should be increased towards the terminal branches of the fungal tree of life by means of more collecting, culturing and DNA barcoding of marine fungi. The role of many tentatively non-marine species found in driftwood will be scrutinized in the future using RNA-sequencing of environmental samples.
Description
Papers 1, 3, 4 and 5 of this thesis are not available in Munin:
1. Halme P, Heilmann-Clausen J, Rämä T, Kosonen T & Kunttu P.: 'Monitoring fungal biodiversity – towards an integrated approach', Fungal Ecology (2012), vol. 5(5):750–758. Available at
http://dx.doi.org/10.1016/j.funeco.2012.05.005
3. Rämä T, Davey ML, Nordén J, Blaalid R, Mathiassen GH, Alsos IG & Kauserud H.: 'Fungal communities in stranded North Atlantic driftwood as revealed by high throughput amplicon sequencing' (manuscript).
4. Davey ML, Rämä T, Bjørnsgaard Aas A, Mysterud A, Ohlson M, Vrålstad T & Kauserud H.: 'Comparing culture dependent and culture independent methods for answering questions in fungal ecology' (manuscript).
5. Rämä T, Mathiassen GH & Kauserud H.: 'Marine fungi new to Norway, with an outlook to the overall diversity' (manuscript).
Publisher
UiT The Arctic University of Norway
UiT Norges arktiske universitet
Collections
Copyright 2014 The Author(s)
The following license file are associated with this item:
Related items
Showing items related by title, author, creator and subject.
Narvestad, Audun

(

Master thesis; Mastergradsoppgave

,

2019-08-15

)

Species are likely to segregate their ecological niches to minimize competition for resources, but for centrally foraging predators that breed on sub-Antarctic islands in the Southern Ocean the possibility of niche segregation may be minimal. This study is the first to examine the spatial and trophic aspects of the foraging niche of sympatrically breeding macaroni and chinstrap penguins at the ...

Martínez Llobet, Samuel

(

Master thesis; Mastergradsoppgave

,

2019-08-15

)

Male bearded seals use vocal displays to attract females and compete with other males during the mating period, making it possible to monitor breeding populations using passive acoustic monitoring (PAM). This study analysed year-round acoustic data from underwater recorders at three sites with different environmental conditions in Svalbard (Norway). Male bearded seals vocalised for an extended ...

Martin, Saskia C.

(

Master thesis; Mastergradsoppgave

,

2021-08-16

)

Male humpback whales (Megaptera novaeangliae) sing structurally complex songs traditionally associated with low latitude breeding grounds. This vocal behaviour is increasingly reported outside these areas. All singers in a given population sing the same version of a song that is constantly evolving with modifications on different levels within the song structure. This study provides the first detailed ...