Multiparadigm Optimizing Retargetable Transdisciplinary Abstraction Language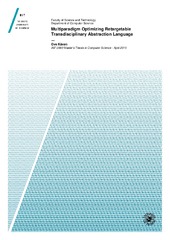 Åpne
thesis (PDF)
compiler source code (Ukjent)
benchmark used in evaluation (Ukjent)
syntax highlighting files for editors (Ukjent)
Dato
2015-04-12
Type
Master thesis
Mastergradsoppgave
Sammendrag
Scientists and engineers require ever more powerful software and hardware to analyze data and build models. Unfortunately, current solutions to the problem are often hard to use for scientists that are not software engineers. And software engineers often do not have the mathematical background to understand the scientific problem to solve. This thesis describes MORTAL, a new general-purpose programming language and compiler for high-performance applications, which aims to bridge this gap by offering a multiparadigm programming environment that allows, for example, the mathematical formulae written by the scientist (perhaps using declarative programming) to be connected to the algorithms implemented by the software engineer (perhaps using object-oriented or functional programming) in a natural way, understood by both. The language will apply modern compiler and static analysis technology, along with contract programming, in new ways to both prevent bugs and improve runtime performance. The implemented compiler is self-hosting and able to compile itself, showing that the language and its compiler, though not fully implemented yet, is already usable. The performance of MORTAL programs is also on par with the performance of C programs. We believe MORTAL has the potential to become a useful language for solving many of the more demanding tasks of modern science.
Forlag
UiT Norges arktiske universitet
UiT The Arctic University of Norway
Følgende lisensfil er knyttet til denne innførselen:
Relaterte innførsler
Viser innførsler relatert til tittel, forfatter og emneord.
Attah, Ambrose Ojadale

(

Master thesis; Mastergradsoppgave

,

2017-11-02

)

Nigeria is witnessing continuing advocacy and increase in number of individuals yearning for computerization of health information and healthcare processes. However, little is known about the opinions of the diverse healthcare providers who would ensure the successful implementation and meaningful use of health information technology in the country (Adeleke, Erinle et al. 2015). This study explores ...

Viken Valvåg, Steffen

(

Doctoral thesis; Doktorgradsavhandling

,

2012-01-30

)

MapReduce has become a widely employed programming model for large-scale data-intensive computations. Traditional MapReduce engines employ dynamic routing of data as a core mechanism for fault tolerance and load balancing. An alternative mechanism is static routing, which reduces the need to store temporary copies of intermediate data, but requires a tighter coupling between the components for ...

Maurer, Anina

(

Master thesis; Mastergradsoppgave

,

2012-09-03

)

This thesis assesses the obligations of landlocked states (LLSs) to protect the marine environment as a whole. In order to limit the scope, three international instruments are focussed upon: the United Nations Convention on the Law of the Sea (UNCLOS), the Convention on Biological Diversity (CBD), and the Fish Stocks Agreement (FSA). This thesis then goes one step beyond the existing regulations, ...