Nest predation in birds of conservation concern. Case studies of monitoring and management.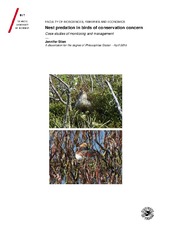 View/Open
Thesis introduction (PDF)
Stien, J., Yoccoz, N.G. and Ims, R. A.: 'Nest predation in declining populations of common eider (Somateria mollissima): an experimental evaluation of the role of hooded crows (Corvus cornix)', Wildlife Biology 16(2), 2010: 123-134. http://dx.doi.org/10.2981/09-060. (PDF)
Stien, J. and Ims, R.A.: 'Negative effects of human disturbance on nest success in declining eider colonies in northern Norway' (manuscript) (PDF)
Stien, J. and Ims, R.A.: 'Management decisions and knowledge gaps: learning by doing in a case of a declining population of Slavonian grebe (Podiceps auritus)', Wildlife Biology 21(1) 2015, 44-50. http://dx.doi.org/10.2981/wlb.00026 (PDF)
Stien, J., Strann, K.B., Jepsen, J., Frivoll, V. and Ims, R. A.: 'Breeding persistence of Slavonian grebe (Podiceps auritus) at long-term monitoring sites: Predictors of a steep decline at the northern European range limit' (manuscript) (PDF)
Stien, J. and Hausner, V.H.: 'Volunteer hunter motivation and engagement to control the invasive alien American mink (Neovison vison) in Norway' (manuscript) (PDF)
Entire thesis in one comprehensive file. (PDF)
Date
2015-06-12
Type
Doctoral thesis
Doktorgradsavhandling
Abstract
In this thesis I have used a variety of study methods at different spatial and temporal scales to explore population processes and management of 2 bird species of conservation concern, common eider and Slavonian grebe, focusing particularly on the role of nest predation in declining populations. I have demonstrated the role of proximate and ultimate causes of nest loss in eider at 2 declining colonies and highlighted the negative effects of human disturbance on nesting success and the potential role of disturbance in decline at one of the colonies. Furthermore, using the stepwise approach of elucidating proximate and ultimate factors has indicated management actions that are highly likely to improve nesting success and may also play a significant role in halting the decline of the eider colonies. I have demonstrated the usefulness of combining investigation of focal species of conservation, Slavonian grebe and targeted invasive alien predator species, American mink in order to optimise management decisions when knowledge of both species is poor. I have further demonstrated the regional decline of Slavonian grebe at the northern range of its distribution. Finally, by investigating the level of mink hunting in Norway I have demonstrated that collaborative control programs that include volunteer mink hunters are best focused on hotspots of conservation concern. I view this thesis as an example of adaptive protocols for learning by doing. In contrast to common (mis)conceptions, I have demonstrated that this approach can be undertaken with relatively little funding and resource use and is simple in its design. Thus, conservation management in general, and game management particularly in Norway should be more willing to tackle management challenges using this adaptive protocol approach.
Publisher
UiT The Arctic University of Norway
UiT Norges arktiske universitet
Collections
Copyright 2015 The Author(s)
The following license file are associated with this item: