"Bioactivity profile of barettin - With special focus on anti-inflammatory, antioxidant and anticoagulant activities"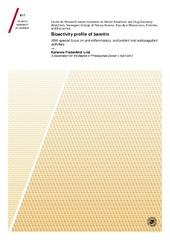 View/Open
Thesis introduction (PDF)
Lind KF, Hansen E, Østerud B, Eilertsen KE, Bayer A, Engqvist M, Leszczak K, Jørgensen TØ and Andersen JH: 'Antioxidant and anti-inflammatory activities of barettin', Mar Drugs. 2013;11:2655-66 (PDF)
Lind KF, Østerud B, Hansen E, Jørgensen TØ and Andersen JH: 'The immunomodulatory effects of barettin and involvement of the kinases CAMK1α and RIPK2' (manuscript) (PDF)
Lind KF, Olsen JO, Hansen E, Jørgensen TØ, Andersen JH and Østerud B: 'Barettin: A marine natural compound with potent anticoagulant and anti-inflammatory properties' (manuscript) (PDF)
Entire thesis in one comprehensive file. (PDF)
Date
2015-04-17
Type
Doctoral thesis
Doktorgradsavhandling
Abstract
The diversity of the marine species inhabiting the oceans makes them highly interesting as potential sources of bioactive molecules for various applications. The extreme environment in the Barents Sea, in terms of temperature and light availability, have forced its organisms to adapt to their surroundings by developing unique biomolecules, and Arctic marine organisms are therefore an excellent starting point when searching for compounds with novel bioactivities. In this thesis, the focus has been on revealing potential antioxidant and anti-inflammatory effects of barettin, a compound originally isolated and described from the marine sponge Geodia barretti in 1986. Several papers have previously highlighted the strong anti-fouling properties of the molecule. In paper I, we presented novel antioxidant and anti-inflammatory properties of barettin. We found that barettin had strong dose-dependent antioxidant effect in both biochemical and cellular assays and follow-up experiments in an inflammatory cell model showed that barettin inhibited LPS-induced production of IL-1β and TNFα in a dose-dependent manner. The combination of the antioxidant and anti-inflammatory effects led us to explore barettin as a potent inhibitor of atherosclerosis development. In paper II, barettin was found to also inhibit LPS-induced production of MCP-1 in THP-1 cells, a chemokine strongly linked to monocyte recruitment and atherosclerosis. When THP-1 cells were co-stimulated with LPS and IL-4, IL-4 being a cytokine with pleiotropic effects, barettin increased the anti-inflammatory effect of IL-4. In paper II, we also presented a biochemical kinase inhibitory profile of barettin, showing inhibitory effect of three kinases, namely salt-inducible kinase 2 (SIK2), calcium/calmodulin-dependent kinase 1α (CAMK1α) and receptor-interacting protein kinase 2 (RIPK2), the two latter being involved in inflammatory processes. The inhibition observed on IL-1β production could be explained by the ability of barettin to inhibit RIPK2, as this kinase have a role in NF-κB activation and possibly also IL-1β maturation. The inhibitory effect of barettin on CAMK1α, which is involved in IL-10 regulation, probably result in an observed reduction of the anti-inflammatory cytokine IL-10 in THP-1 cells. In an ex vivo whole blood model stimulated with LPS, the effect of barettin on tissue factor (TF), TNFα, MCP-1, IL-10, TxB2, LTB4 and HMGB1 was evaluated (paper III). Barettin reduced TF, TNFα, TxB2, LTB4, MCP-1 and IL-10, whereas the effect on HMGB1 was modest. In summary, the overall results show that barettin affects several cellular processes and the effect of barettin should be further evaluated both in vitro and in vivo to find the true potential of the molecule.
Publisher
UiT The Arctic University of Norway
UiT Norges arktiske universitet
Collections
Copyright 2015 The Author(s)
The following license file are associated with this item: