Diabetes Automata For Diabetes-Related Applications: Software Engine For Blood Glucose Level Simulation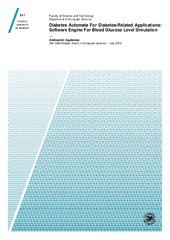 View/Open
(PDF)
Artikkel, Scandinavian Health Informatics (SHI) Conference 2015 (PDF)
Date
2015-07-10
Type
Master thesis
Mastergradsoppgave
Abstract
Diabetes Automata is a try of concept in the complex research-field of blood glucose simulation and prediction in experimental medical informatics, an experimental research project in software engineering combined with experimental health science. The project integrates together topics such as software system design and development, object-oriented programming, mobile application development, experimental health informatics and electronic health in general and mobile health in particular, and some part of medical biology combined with mathematics. The project is aimed to develop a prototype of a very important component for diabetes games and simulators. According to the literature review, the project is the first attempt to develop a software engine that is able to simulate blood glucose behavior and calculate blood glucose levels in people with diabetes type 1 with help of input information such as user's biometry and information about insulin, carbohydrates and physical activity, and could be used in a wide range of software on various platforms for people with diabetes and specialists, such as diabetes-related serious games, systems and applications.
Publisher
UiT Norges arktiske universitet
UiT The Arctic University of Norway
Collections
Copyright 2015 The Author(s)
The following license file are associated with this item:
Related items
Showing items related by title, author, creator and subject.
Haldar-Iversen, Sondre

(

Mastergradsoppgave; Master thesis

,

2020-11-15

)

Data compression is a field that has been extensively researched. Many compression algorithms in use today have been around for several decades, like Huffman Coding and dictionary coding. These are general-purpose compression algorithms and can be used on anything from text data to images and video. There are, however, much fewer lossless algorithms that are customized for compressing certain types ...

Nilsen, Henrik Fjeld

(

Master thesis; Mastergradsoppgave

,

2021-05-18

)

This report discusses the possibility for wireless charging solutions for electric vessels, with a focus on offshore wind turbine service. Where the charging time is minimal and safety for crew is important. Different types of wireless technologies have been studied, where the Inductive power transfer (IPT) is shown to be the preferred technology. Inductive power transfer (IPT) grants a safe ...

Agwu, Ukeje Jacob

;

Logvinovskaya, Anna

;

Phetchpinkaew, Gorn

(

Master thesis; Mastergradsoppgave

,

2017-05-31

)

The Arctic is a region which is rapidly opening up for business opportunities. However, research has been abundant here for a long time. With this situation comes the avenue to transition technology used in the region from research to commercial purposes. In this thesis, a business case is developed to show the commercial potential of research-based technology. The case technology was developed by ...