Diabetes Automata For Diabetes-Related Applications: Software Engine For Blood Glucose Level Simulation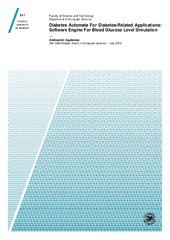 View/Open
(PDF)
Artikkel, Scandinavian Health Informatics (SHI) Conference 2015 (PDF)
Date
2015-07-10
Type
Master thesis
Mastergradsoppgave
Abstract
Diabetes Automata is a try of concept in the complex research-field of blood glucose simulation and prediction in experimental medical informatics, an experimental research project in software engineering combined with experimental health science. The project integrates together topics such as software system design and development, object-oriented programming, mobile application development, experimental health informatics and electronic health in general and mobile health in particular, and some part of medical biology combined with mathematics. The project is aimed to develop a prototype of a very important component for diabetes games and simulators. According to the literature review, the project is the first attempt to develop a software engine that is able to simulate blood glucose behavior and calculate blood glucose levels in people with diabetes type 1 with help of input information such as user's biometry and information about insulin, carbohydrates and physical activity, and could be used in a wide range of software on various platforms for people with diabetes and specialists, such as diabetes-related serious games, systems and applications.
Publisher
UiT Norges arktiske universitet
UiT The Arctic University of Norway
Collections
Copyright 2015 The Author(s)
The following license file are associated with this item:
Related items
Showing items related by title, author, creator and subject.
Løvmo, Signy Anita

(

Master thesis; Mastergradsoppgave

,

2016-06-01

)

This thesis is a part of a master's degree in Technology and Safety in the High North at the University of Tromsø- The Arctic University of Norway. The thesis has been written during the spring semester of 2016. Safety is a large part of maritime operations and all tools to improve safety and reliability is considered. Even in these days when economy in the oil related industry is worse than ever. ...

Agwu, Ukeje Jacob

;

Logvinovskaya, Anna

;

Phetchpinkaew, Gorn

(

Master thesis; Mastergradsoppgave

,

2017-05-31

)

The Arctic is a region which is rapidly opening up for business opportunities. However, research has been abundant here for a long time. With this situation comes the avenue to transition technology used in the region from research to commercial purposes. In this thesis, a business case is developed to show the commercial potential of research-based technology. The case technology was developed by ...

Elahi, Najeeb

(

Doctoral thesis; Doktorgradsavhandling

,

2020-03-27

)

This thesis proposes a novel approach to explore and extract context information attached with images, mainly gathered from social network sites. I first performed a user study, to understand the user behavior on social network sites. I inferred that the relationship among users have central importance.<p> <p>To assist users to annotate images in social network, I use existing metadata gathered ...