Web-Based Surgical Telementoring. Service design and evaluation of the key features.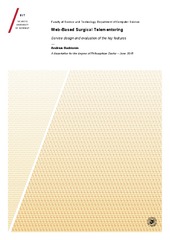 Åpne
Thesis introduction and appendix (PDF)
Dato
2015-10-13
Type
Doctoral thesis
Doktorgradsavhandling
Sammendrag
This thesis provides a detailed outlook on research in telementoring, identifying the fundamental limitations hindering its smooth integration into clinical practice. The findings are based on literature reviews and user involvement, minimizing the gap between research and actual use of the system. To address the identified shortcomings, a service-oriented approach to clinical VC systems was proposed. The implementation was validated through non-clinical experiments regarding the published quality indicators and assessing the readiness of the web technologies supporting the selected workflow. The developed theoretical models visualized the relations between the clinical and educational outcomes of telementoring, defining the methodology for the PhD project. The proposed measurement procedures were followed throughout the studies evaluating the usability of telementoring-capable hardware to ensure that sufficient qualities of mentoring are maintained regardless of the employed infrastructure. The findings demonstrated the feasibility of end-user hardware-agnostic mentoring and provided insights on the influence of the input method on the mentoring process. A highly rated telestrator capacity was investigated to quantify its impact on the mentoring process. The potential for enhancing collaboration between mentors and mentees was studied, and unexpected findings were collected. Minor quantitative improvements and side effects encourage further exploration of collaboration techniques for surgical supervision. This thesis provides in-depth knowledge on the development and deployment of surgical telementoring systems following international regulations and keeping patient safety concerns a top priority. This project aimed to unite the fragmented research on surgical telementoring, bridging technological and clinical perspectives. It brought the best computer science practices into a field mostly dominated by clinical expertise. It stressed the importance of a reusable large-scale infrastructure, delivering sound and comparable clinical research; this is in contrast to the current body of knowledge, which is overwhelmed by highly restrictive and underpowered studies. Research contributions achieved in the scope of this PhD thesis are aligned with national regulations for introducing a safety-critical system into clinical settings. The findings contribute to approving the telementoring service as a medical device to proceed with clinical evaluation.
Beskrivelse
Paper II, III and IX of this thesis are not available in Munin.
Paper II. What device should be used for telementoring? Randomized controlled trial. Andrius Budrionis, Gunnar Hartvigsen, Rolv-Ole Lindsetmo, Johan Gustav Bellika. Available in
International Journal of Medical Informatics, 84 (2015) 715-723
Paper III. Assessing the impact of telestration on surgical telementoring: A randomized controlled trial. Andrius Budrionis, Per Hasvold, Gunnar Hartvigsen and Johan Gustav Bellika. Available in
Journal of Telemedicine and Telecare (2015) 0(0) 1–6
Paper IX. Moving telementoring to the web. Andrius Budrionis, Per Hasvold, Gunnar Hartvigsen, Johan Gustav Bellika. Available in
Computer Assisted Radiology and Surgery - 28th International Congress and Exhibition//International Journal of Computer Assisted Radiology and Surgery (2014) 9 (Suppl 1):S263–S309 s. 279-280
Forlag
UiT Norges arktiske universitet
UiT The Arctic University of Norway
Følgende lisensfil er knyttet til denne innførselen:
Relaterte innførsler
Viser innførsler relatert til tittel, forfatter og emneord.
Agafonov, Aleksandr

(

Master thesis; Mastergradsoppgave

,

2015-07-10

)

Diabetes Automata is a try of concept in the complex research-field of blood glucose simulation and prediction in experimental medical informatics, an experimental research project in software engineering combined with experimental health science. The project integrates together topics such as software system design and development, object-oriented programming, mobile application development, ...

Løvmo, Signy Anita

(

Master thesis; Mastergradsoppgave

,

2016-06-01

)

This thesis is a part of a master's degree in Technology and Safety in the High North at the University of Tromsø- The Arctic University of Norway. The thesis has been written during the spring semester of 2016. Safety is a large part of maritime operations and all tools to improve safety and reliability is considered. Even in these days when economy in the oil related industry is worse than ever. ...

Agwu, Ukeje Jacob

;

Logvinovskaya, Anna

;

Phetchpinkaew, Gorn

(

Master thesis; Mastergradsoppgave

,

2017-05-31

)

The Arctic is a region which is rapidly opening up for business opportunities. However, research has been abundant here for a long time. With this situation comes the avenue to transition technology used in the region from research to commercial purposes. In this thesis, a business case is developed to show the commercial potential of research-based technology. The case technology was developed by ...