Atlantic salmon type I interferons: Protection against virus infection in vivo and function as adjuvants in a virus DNA vaccine.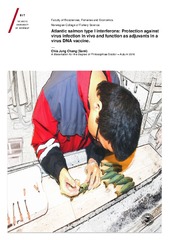 View/Open
Thesis introduction (PDF)
Paper I: Chang, C. J., Robertsen, C., Sun, B., Robertsen, B.: "Protection of Atlantic salmon against virus infection by intramuscular injection of IFNc expression plasmid." Also available in:
Vaccine 2014, 32(36):4695–4702
. (PDF)
Paper III: Chang, C. J., Sun, B., Robertsen, B. "Adjuvant activity of fish type I interferon shown in a virus DNA vaccination model". Also available in
Vaccine 2015, 33(21): 2442–48
(PDF)
Date
2016-08-25
Type
Doctoral thesis
Doktorgradsavhandling
Abstract
Fish farming has been considered the importance resource for supplying food for the global requirement. Norway by far is the country that produces the most salmon in the world, and virus disease is one of the major problems that causes the economic loss in fish farming. For combating the diseases, the vaccine has been developed. In Norway, traditional vaccines based on inactivated virus are available against IPN, PD, and ISA, but do not appear to give adequate protection. IPN and vaccine based on recombinant VP2 are the only commercial available subunit vaccine in Norway that provides high and long-lasting protection. There is thus a clear need to develop effective vaccines against these and other virus diseases of Atlantic salmon. To develop improved vaccines and other prophylactic methods, it is important to increase the understanding of the interaction of viruses with the immune system of Atlantic salmon. Three salmon interferon subtypes IFNa, IFNb and IFNc which all induce the expression of antiviral genes in salmon cells that provide antiviral activity against virus infection. Therefore, in the first part of our work, we have studied if the intramuscular injection of IFN-I expressed plasmid DNA can induce antiviral activity in salmon pre-smolt and provide protection against virus infection. Our work has shown that IFNc but not IFNb and IFNa plasmid induce a strong antiviral activity and protection against ISAV and SAV3. Besides, IFN-I plays an important role in modulating adaptive immune response in mammals, therefore, in the second part of our work, we have studied if type I IFNs might be used as adjuvants in fish DNA vaccines. We have chosen ISAV HE DNA vaccine as the model that co-injected with salmon IFN-I plasmid, and the results of our work show a strong adjuvant effect of all three interferons. Our result is the first time illustrated the adjuvant effect of IFN-I in fish that could be useful for vaccine development.
Description
Paper II of this thesis is not available in Munin.
Paper II: Chang, C. J., Jenssen, I., Robertsen, B.: "Protection of Atlantic salmon against salmonid alphavirus infection by type I interferons IFNa, IFNb and IFNc." (Manuscript). Published version available in:
Fish and shellfish immunology 2016
Publisher
UiT The Arctic University of Norway
UiT Norges arktiske universitet
Collections
Copyright 2016 The Author(s)
The following license file are associated with this item: