Useful GPGPU Programming Abstractions. A thorough analysis of GPGPU development frameworks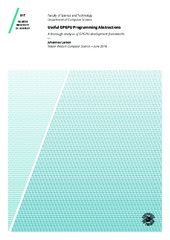 Åpne
(PDF)
Source code, Experimental data readings (Ukjent)
Dato
2016-06-01
Type
Master thesis
Mastergradsoppgave
Sammendrag
Today, computers commonly have graphics hardware with a processing power far exceeding that of the main processors in the same machines. Modern graphics hardware consists of highly data-parallel processors, which are user programmable. However, software development utilizing these processors directly is reserved for platforms that require a fair bit of intimate knowledge about the underlying hardware architecture.
The need for specialized development platforms that expose the underlying parallelism to developers, elevates the learning threshold for newcomers, which obstructs the general adaption of GPU support. However, there are many frameworks that build upon, and elevate the abstraction level of, these specialized development platforms. These frameworks strive to provide programming interfaces less dependent on graphics architecture knowledge, and better resembling how you would program traditional software. They all come with their own quirks, and many of the abstractions they provide come with a considerable computational overhead.
This thesis aims to catalog relevant kinds of high-level GPGPU frameworks, and to evaluate their abstractions, and the overhead these abstraction impose on their applications. The experiments are based on real-world SAR processing problems that physicists at the university are exploring the possibility of accelerating on GPU, and the experiments compare frameworks against each other and against a baseline low-level CUDA implementation. The results show that the overhead most frameworks impose are moderate for data-intensive problems, considerable for compute-intensive problems, and typically higher for high-level interpreted language bindings than for native frameworks.
Libraries with thoroughly tested general-purpose GPU functionality (e.g.~ArrayFire) help in the development process, but must work on moderately sized data structures to amortize their overhead sufficiently. GPU code generators (e.g.~VexCL) also have great potential, but their abstractions tend to add complexity to the code, which make them better suited for advanced GPU programmers, than regular developers.
Forlag
UiT Norges arktiske universitet
UiT The Arctic University of Norway
Følgende lisensfil er knyttet til denne innførselen:
Relaterte innførsler
Viser innførsler relatert til tittel, forfatter og emneord.
Attah, Ambrose Ojadale

(

Master thesis; Mastergradsoppgave

,

2017-11-02

)

Nigeria is witnessing continuing advocacy and increase in number of individuals yearning for computerization of health information and healthcare processes. However, little is known about the opinions of the diverse healthcare providers who would ensure the successful implementation and meaningful use of health information technology in the country (Adeleke, Erinle et al. 2015). This study explores ...

Viken Valvåg, Steffen

(

Doctoral thesis; Doktorgradsavhandling

,

2012-01-30

)

MapReduce has become a widely employed programming model for large-scale data-intensive computations. Traditional MapReduce engines employ dynamic routing of data as a core mechanism for fault tolerance and load balancing. An alternative mechanism is static routing, which reduces the need to store temporary copies of intermediate data, but requires a tighter coupling between the components for ...

Maurer, Anina

(

Master thesis; Mastergradsoppgave

,

2012-09-03

)

This thesis assesses the obligations of landlocked states (LLSs) to protect the marine environment as a whole. In order to limit the scope, three international instruments are focussed upon: the United Nations Convention on the Law of the Sea (UNCLOS), the Convention on Biological Diversity (CBD), and the Fish Stocks Agreement (FSA). This thesis then goes one step beyond the existing regulations, ...