Calanus® Oil. Utilization, composition and digestion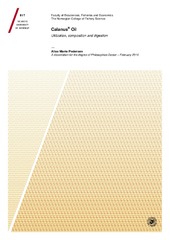 View/Open
Thesis introduction (PDF)
Paper III: Pedersen, A. M., Salma, W., Höper, A. C., Larsen, T. S., Olsen, R. L.: "Lipid profile of mice fed a high-fat diet supplemented with a wax esterrich marine oil." Also available in
European Journal of Lipid Science and Technology 2014, 116(12):1718–1726
(PDF)
Date
2016-07-03
Type
Doctoral thesis
Doktorgradsavhandling
Abstract
In the pelagic system, phytoplankton are the main producers of n-3 LC-PUFA and make up the foundation of the oceanic food web. Zooplankton, such as copepods and krill, are the most numerous primary consumers in the marine environment and have a central role in the energy transfer to higher trophic levels. The copepod Calanus finmarchicus is present in large amounts in the North Atlantic and has lipid-rich stages that can be harvested in a sustainable manner. The aim of this thesis was to provide knowledge which could contribute to the commercial utilization of Calanus finmarchicus. The wax ester-rich oil may be used as an alternative lipid source to fish oil in feeds for aquaculture, leading to good growth and efficient nutrient utilization. Moreover, the oil can be used as a health promoting nutraceutical as several recent publications indicate that oil from C. finmarchicus may have beneficial health effects beyond those which may be ascribed to the intake of EPA and DHA alone. In this work it was investigated if the use of commercial proteolytic enzymes could improve oil recovery from C. finmarchicus in an industrial-like process, and to characterize the oil obtained. The results showed a substantially higher oil yield with the use of proteolytic enzymes compared to standard fish oil production technology. The main components of the oil extracted from C. finmarchicus are monoesters of long-chain fatty acids and fatty alcohols, namely wax esters. In addition, the oil is rich in the deep red antioxidant astaxanthin present mostly as di- and monoesters. The fatty acid moiety of the wax esters consists of high quantities of stearidonic acid (SDA, 18:4n-3), EPA and DHA, but also a considerable amount of monounsaturated fatty acids, especially gondoic acid (20:1n-9) and cetoleic acid (22:1n-11). The final part of the thesis was to study the digestion of wax esters in mice fed a high fat diet supplemented with 2% Calanus® Oil. The findings confirmed that the mice were able to digest and absorb the Calanus® Oil, as the fatty acid composition of the adipose tissue and liver reflected the enrichment with the marine wax esters. Feeding mice a high fat diet supplemented with a small amount of wax ester-oil reduced the body weight gain, in line with recent published studies.
Description
The papers I and II of this thesis are not available in Munin.
Paper I: Pedersen, A. M., Vang, B., Olsen, R. L.: «Oil from Calanus finmarchicus —Composition and Possible Use: A Review." Available in
Journal of Aquatic Food Product Technology 2014, 23(6):633-646.
Paper II: Vang, B., Pedersen, A.M., Olsen, R.L.: "Oil extraction From the Copepod Calanus finmarchicus Using Proteolytic Enzymes." Available in
Journal of Aquatic Food Product Technology 2014, 22(6):619-628
Publisher
UiT The Arctic University of Norway
UiT Norges arktiske universitet
Collections
Copyright 2016 The Author(s)
The following license file are associated with this item: