Francisella noatunensis ssp. noatunensis in Atlantic cod - Intracellular localization, innate immune responses and antibacterial proteins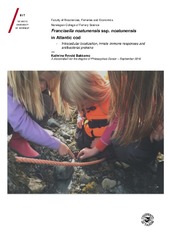 View/Open
Thesis introduction (PDF)
Paper I: Bakkemo, K. R., Mikelsen, H., Bordevik, M., Torgersen, J., Winther-Larsen, H. C., Vanberg, C., Olsen, R., Johansen, L.-H., Seppola, M.: «Intracellular localisation and innate responses following Francisella noatunensis infection of Atlantic cod (Gadus morhua) macrophages". Also available in
Fish & Shellfish Immunology 2011, 31: 993-1004.
(PDF)
Paper III: Seppola. M., Bakkemo, K. R., Mikkelsen, H., Myrnes, B., Helland, R., Irwin, D. M., Nilsen, I. W.: «Multiple specialised goose-type lysozymes potentially compensate for an exceptional lack of chicken-type lysozymes in Atlantic cod". Also available in
Scientific Reports 2016, 6.
(PDF)
Date
2016-11-24
Type
Doctoral thesis
Doktorgradsavhandling
Abstract
SUMMARY Francisellosis has in the cod farming industry caused big economic losses because of no available vaccine or treatments. Understanding host-pathogen mechanisms is especially important when traditional vaccine strategies using inactivated bacteria are not functional. The focus of this thesis has been to study interactions between the host and the pathogen causing the disease. The bacterium Francisella noatunensis subspecies noatunensis (here after called F. noatunensis) is the causative agent and a special feature with this particular pathogen is the intracellular lifestyle and the invasion of immune cells which are designed to kill pathogens. Cod macrophages were used as tools to investigate bacterial invasion, localization of the bacterium in the host cell, survival and replication. Additionally, expression of immune and antibacterial genes was measured after infection with the bacteria. LPS from both F. noatunensis and E. coli was used as immune stimulants and activation of macrophages with gamma interferon (IFN-γ) was conducted. Investigation of invasion, survival and replication of F. noatuensis in a cod cell line of epithelial-like cells (ACL-cells) were also included. Important findings are that F. noatunensis is able to survive and replicate in both cod macrophages and ACL-cells. Inside macrophages the bacteria seems to release vesicles, disrupt the phagosomal membrane and escape into the cytosol. Pro-inflammatory responses in cod macrophages appeared to be low while an anti-inflammatory response was higher. Also F. noatunensis LPS are a poor inducer of pro-inflammatory cytokine in contrast to E.coli LPS. The low induction of inflammatory responses after F. noatunensis infection or treatment with its LPS, suggests that this bacterium may have evolved virulence mechanisms to subvert host immune responses in cod. Uptake of the pathogen in macrophages is dependent of actin filaments and temperature appears important in invasion of cod macrophages. It has become clear that fish possess a well-functioning interferon system to regulate host defence against viral infections and also intracellular bacteria. Recombinant (r) IFN-γ from cod seemed to activate cod macrophages to increased uptake of F. noatunensis followed by a reduction of intracellular bacteria. In addition, natural antibacterial peptides, produced by the organisms itself, were investigated. Lysozyme, cathelicidin and hepcidin were chosen as they are all identified in cod. Multiple goose-type (g-type) lysozyme genes have been found in cod and can be products of gene duplications. Analysis showed that cod seems to lack chichen-type lysozyme in contrast to other fish like Atlantic salmon. Investigation further revealed that all three types of the studied antibacterial peptides are involved in cod host defence mechanisms in vivo. Infection of cod macrophages (in vitro) confirms the importance of g-type lysozyme, while expression of cathelicidin and hepcidin genes was at the same level as control. Even though both hepcidin and cathelicidin have antimicrobial roles in mammalian phagocytic cells it looks like F. noatunensis does not trigger expression of these genes in cod macrophages. This could mean that other cells or systems than macrophages are causing cathelicidin and hepcidin amplification in cod. G-type lysozyme on the other hand seems important in defence mechanisms in cod macrophages and several issues indicate an intracellular role of this peptide.
Description
The paper 2 of this thesis is not available in Munin.
Paper II: Bakkemo, K. R., Mikelsen, H., Johansen, A., Robertsen, B., Seppola, M.: «Francisella noatunensis subsp. noatunensis invade, survive and replicate in Atlantic cod cells". Available in
Diseases of Aquatic Organisms 2016, 121(2):149-159.
Publisher
UiT The Arctic University of Norway
UiT Norges arktiske universitet
Collections
Copyright 2016 The Author(s)
The following license file are associated with this item: