The role of the invasive red king crab in the food web of a high-latitude fjord Studying macrobenthic communities and trophic control in Porsangerfjord, northern Norway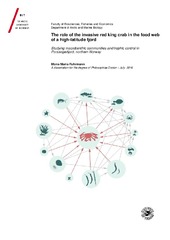 View/Open
Thesis introduction (PDF)
Paper 1: Fuhrmann, M. M., Pedersen, T., Ramasco, V., Nilssen, E. M.: "Macrobenthic biomass and production in a heterogenic subarctic fjord after invasion by the red king crab". Also available in
J Sea Res 2015, 106(December):1-13.
(PDF)
Date
2016-11-24
Type
Doctoral thesis
Doktorgradsavhandling
Abstract
Biological invasions are a major challenge facing coastal waters and increasingly threaten high-latitude environments. The red king crab is one of the world's largest decapods and was introduced into the Barents Sea in the 1960s. It has since become a valuable fishery resource in Russian and Norwegian waters. In the early 2000s, red king crabs entered Porsangerfjord, which now holds one of the largest densities of king crabs along the northern Norwegian coast. This thesis provides new knowledge on how predation by the red king crab may effect benthic community, productivity and the food web in Porsangerfjorden. The major objectives of this thesis were to assess macrobenthic communities and their secondary production in Porsangerfjord, and, together with information on the trophic niche, asses the role of the red king crab in the food web and its predation and competitive impacts through Ecopath with Ecosim mass balance models (EwE). Benthic communities in Porsangerfjord followed environmental and predation gradients, which affected community traits, such as composition and size structure, resulting in different production and P/B patterns. The red king crab is a generalist, opportunistic predator, feeding on multiple trophic levels. Small and large crabs are likely to affect different habitats and prey species, but took a similar trophic position in the food web. The red king crab played an important role in the Porsangerfjord food web through top-down effects on large, long-lived benthic invertebrate groups by medium and large sized crabs, but had little significance as prey for higher trophic levels and affected mostly the benthic compartment of the food web. Niche overlap and competitive effects with fish species were comparably low, but those may be of significance for birds feeding on benthic invertebrates and for large predatory invertebrates, the latter also being prey for red king crabs. In the future, king crabs may partly replace these invertebrates as major predator in the benthos. Predation pressure by the red king crab may be buffered by high production in some prey, such as polychaetes, but may lead benthic communities to an overall lower biomass and higher turnover system, with unknown consequences for ecosystem stability and resilience. King crabs may help in the regrowth of macroalgae through predation on herbivorous sea urchins, but this needs further investigation and implementation in future models.
Description
The papers 2 and 3 of this thesis are not available in Munin.
Paper 2: Fuhrmann, M. M., Pedersen, T., Nilssen, E. M.: "Trophic ecology of the invasive red king crab (Paralithodes camtschaticus) in a native benthic food web". (Manuscript).
Paper 3: Pedersen, T., Fuhrmann, M. M., Lindstrøm, U., Nilssen, E. M., Ivarjord, T., Ramasco, V., Jørgensen, L. L., Sundet, J. H., Sivertsen, K., Källgren, E., Hjelseth, A-M., Michaelsen, C., Systad, G., Norrbin, F., Svenning, M. A., Bjørge, A., Steen, H., Nilssen, K. T.: «Modelling ecosystem structure and trophic control by the invasive red king crab in Porsangerfjord, northern Norway". (Manuscript).
Publisher
UiT The Arctic University of Norway
UiT Norges arktiske universitet
Collections
Copyright 2016 The Author(s)
The following license file are associated with this item: