Adjuvant combinations with the Toll-like receptor ligand CpG - Protective immune responses in Atlantic salmon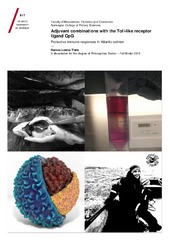 Åpne
Thesis introduction (PDF)
Paper I: Thim, H. L., Iliev, D. B., Christie, K. E., Villoing, S., McLoughlin, M. F., Strandskog, G., Jørgensen, J. B.: "Immuoprotective activity of a salmonid alphavirus vaccine: Comparison of the immune responses induced by inactivated whole virus antigen formulations based on CpG class B oligonucleotides and poly I:C alone or combined with an oil adjuvant". Also available in
Vaccines 2012, 30(32): 4828-4834.
(PDF)
Paper II: Thim, H. L., Villoing, S., McLoughlin, M. F., Christie, K. E., Grove, S., Frost, P., Jørgensen, J. B.: "Vaccine adjuvants in fish make a difference: Comparing three adjuvants (Montanide ISA763A Oil, CpG/poly I:C combo and VHSV glycoprotein) alone or in combination formulated with an inactivated whole salmonid alphavirus antigen". Also available in
Vaccines 2014, 2(2):228-251.
(PDF)
Paper III: Iliev, D. B., Thim, H. L., Lagos, L., Olsen, R., Jørgensen, J. B.: "Homing of antigen-presenting cells in head kidney and spleen – salmon head kidney hosts diverse APC types". Also available in
Frontiers in Immunology 2013.
(PDF)
Dato
2016-12-01
Type
Doctoral thesis
Doktorgradsavhandling
Sammendrag
Aquaculture is in need of improved viral vaccines to meet the demands of a growing sustainable industry. Fish viral vaccines are often based on less immunogenic antigen (Ag) formulations that require adjuvants to elicit sufficient protection. Toll-like receptor (TLR) agonists holds high immunostimulatory properties and are in mammals well explored vaccine adjuvants. The potential of synthetic TLR-agonists as adjuvants lie in their ability to provide signals engaging both innate and adaptive immunity that in turn may prime an array of immune responses. In this thesis, the main aim has been to increase our knowledge regarding the immunostimulatory properties of the nucleic acid-sensing TLR-agonists CpG and poly I:C in Atlantic salmon. First, the TLR-agonists were included as an adjuvant combo to inactivated whole salmonid pancreas disease virus (SPDV/SAV) Ag formulations where effects on protection against SAV was investigated both by injection and co-habitant challenge. The work show that the combo greatly potentiated neutralizing antibody responses. In line with the challenge studies, it was further investigated if cells in the periphery could take up the soluble antigens CpG and ovalbumin (OVA) and home to the immunological tissues head kidney (HK) and spleen. Indeed, leukocytes homed to the HK and displayed traits common for maturing Ag-presenting cells (APCs). In that study, a B-lymphocyte like IgM positive cell population was described in HK that downregulated early B cell marker transcript, while secreted IgM transcripts were upregulated upon in vitro CpG stimulation. This suggests that the HK harbor antibody secreting cells (ASCs). Based on that, method optimization to characterize Atlantic salmon B cells functionally were initiated. Flow cytometry analysis of naïve salmon using trout monoclonal antibodies show that IgM+ B cells are the dominating Ig class in salmon systemic lymphoid tissues. Moreover, mRNA transcript analyzes of sorted IgM+ B cells from HK, peripheral blood and spleen leukocytes show that they express a range of nucleic acid-sensing TLRs. In addition, CpG stimulation alone was enough to induce IgM secretion in sorted HK and spleen IgM+ B cell cultures. Our findings suggests that these TLRs are promising 'model- agonists'. To further support the use of these TLR-agonists as adjuvants in finfish viral vaccines, research regarding their direct and indirect effects, particularly on salmon B cells, should be emphasized. This requires markers as well as in vitro and in vivo assays that are yet not in place.
Beskrivelse
The paper IV of this thesis is not available in Munin.
Paper IV: Jenberie, S., Thim, H. L., Jensen, I., Jørgensen, J. B.: «Profiling B cell populations in Atlantic salmon – Toll-like Receptor expression and responsiveness to CpG stimulation". (Manuscript).
Forlag
UiT The Arctic University of Norway
UiT Norges arktiske universitet
Samlinger
Copyright 2016 The Author(s)
Følgende lisensfil er knyttet til denne innførselen: