Seasonality of Meroplankton in Svalbard Waters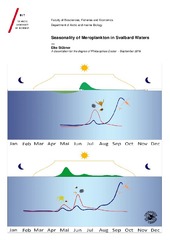 Åpne
Thesis introduction (PDF)
Paper II: M. Bradner, M., Stübner, E.I., Reed, A.J. Gabrielsen, T.M., Thatje, S.: "Seasonality of bivalve larvae within a high Arctic fjord". Also available in
Polar Biology 2016:1-14.
(PDF)
Dato
2016-12-14
Type
Doctoral thesis
Doktorgradsavhandling
Sammendrag
The temporal dynamics of meroplankton, manly comprised of larvae of benthic invertebrates that only temporarily inhabit the pelagic environment, is poorly understood in Arctic environments. The main objective of this thesis was to increase our knowledge on meroplankton dynamics and their ecological role in the Arctic marine coastal ecosystem. Three different approaches including high-frequency field sampling, molecular identification (DNA bar-coding, Bivalvia) and feeding experiments (Cirripedia nauplii) were applied to investigate the highly dynamic nature of meroplankton and how they relate to biological and environmental drivers and what might be their potential feeding impact during mass occurrences. Meroplankton contributed considerably to the total zooplankton abundance during the productive time of the year. A strong correlation of total meroplankton abundance with phytoplankton biomass was observed as a general pattern. We found that the timing of the spring bloom determined the onset of the "meroplankton-boost", which mainly comprised Cirripedia and Bivalvia larvae. Strong seasonality was also found in the occurrence of the different bivalve larval species. The feeding experiments gave limited results, since the experimental set-up needs some improvements. Our investigation suggests that benthic invertebrate larvae play a significant role in the pelagic ecosystems in Arctic coastal regions, linking the pelagic and benthic realms. The different reproductive strategies of benthic invertebrates with planktonic larvae are discussed and some speculations about potential changes in a warming Arctic climate are made.
Beskrivelse
The papers I and III of this thesis are not available in Munin.
Paper I: Stübner, E.I., Søreide, J.E., Reigstad, M., Marquardt, M., Blachowiak-Samolyk, K.: "Year-round meroplankton dynamics in high-Arctic Svalbard". Available in
Journal of Plankton Research 2016, 38(3):522-536.
Paper III: Stübner, E.I., Renaud, P., Berge, J., Gabrielsen, T. M., Reigstad, M., Kwasniewski, S., Boehnke, R., Blachowiak-Samolyk, K., Søreide, J.E.: "Timing of meroplankton in different Arctic primary production regimes". (Manuscript).
Forlag
UiT The Arctic University of Norway
UiT Norges arktiske universitet
Samlinger
Copyright 2016 The Author(s)
Følgende lisensfil er knyttet til denne innførselen: