Calanus glacialis and C. finmarchicus in a warming Arctic Implications of increasing temperature at the individual and population level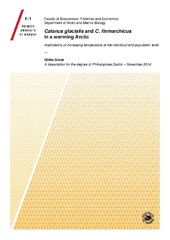 Åpne
Thesis (PDF)
Papir II: Alcaraz, M., Felipe, J., Grote, U., Arashkevich, E., Nikishina, A.: "Life in a warming ocean: thermal thresholds and metabolic balance of arctic zooplankton". Also available in
Journal of Plankton Research 2014, 36(1): 3-10
(PDF)
Dato
2017-03-21
Type
Doctoral thesis
Doktorgradsavhandling
Sammendrag
Climate change is particularly pronounced in the Arctic and water temperatures are predicted to increase substantially. This has important implications for Arctic marine organism, especially ectotherms, such as copepods. The calanoid copepods Calanus glacialis and C. finmarchicus are key species of different pelagic food webs at high latitudes and changes in temperature will likely affect them differently, further affecting higher trophic level organisms feeding on Calanus spp. One objective of this thesis was therefore to investigate physiological processes affecting growth and reproduction, such as feeding, egestion, respiration, and egg production rates of especially C. glacialis in response to temperature (0 10 °C) and to discuss the potential metabolic balance. The other objective of this thesis was to investigate the effect of increasing temperature on C. glacialis and C. finmarchicus populations using the SINMOD model. C. glacialis ingestion and egestion rates increased linearly with temperature in one experiment, while ingestion and respiration rates reached a thermal optimum at 2.5 °C and 6 °C, respectively, in another experiment, indicating plasticity in feeding responses, likely due to local adaptation. Comparing the Q10 values of ingestion, egestion and respiration rates of C. glacialis indicates that the physiological processes connected to metabolic losses (egestion, respiration) have a higher thermal sensitivity than the one connected to metabolic gains (feeding), resulting in relatively less energy being available for growth and reproduction at warmer temperatures. A direct comparison of carbon specific ingestion and respiration rates of C. glacialis indicates a metabolic mismatch at temperatures above 5-6 °C, potentially resulting in negative effects on growth and survival. At temperatures above 5 °C, egg production rates of C. glacialis decreased, indicating that metabolic balance was negatively affected by increasing temperature, while egg production rates of C. finmarchicus increased with temperature. The simulated response of Calanus spp. populations with increasing temperature suggests that C. finmarchicus biomass and net production will increase in the southern Barents Sea. C. glacialis biomass and net production will likely increase in the northern Barents Sea up to summer seawater temperatures of 5-6 °C. Further warming will reduce C. glacialis biomass and net production due to the observed metabolic mismatch negatively affecting growth. Changes in food availability due to nutrient limitation can have pronounced effects on population biomass and productivity as well, suppressing the potentially positive effects of initially increasing temperatures.
Beskrivelse
The papers I, III and IV of this thesis are not available in Munin.
Paper I: Grote U., Pasternak A., Arashkevich E., Halvorsen E., Nikishina A.: "Thermal response of ingestion and egestion rates in the Arctic copepod Calanus glacialis and possible metabolic consequences in a warming ocean". Available in
Polar Biology 2015, 38:1025-1033.
Paper III: Pasternak, A.F., Arashkevich, E.G., Grote, U., Nikishina, A.B., Solovyev, K.A.: Different effects of increased water temperature on egg production of Calanus finmarchicus and C. glacialis. Available in
Oceanology 2013, 53(5):547-553.
Paper IV: Grote U., Eisenhauer L.: "Modelling population level responses of Calanus glacialis and C. finmarchicus under different climate warming regimes in the Barents Sea area". (Manuscript).
Forlag
UiT The Arctic University of Norway
UiT Norges arktiske universitet
Samlinger
Copyright 2017 The Author(s)
Følgende lisensfil er knyttet til denne innførselen: