"Navigare necesse est". Bio Environmental implications of shipping in the European Arctic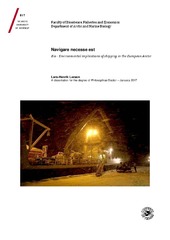 Åpne
Thesis (PDF)
Paper I: Larsen, L-H., Kvamstad-Lervold, B., Sagerup, K., Gribkovskaia, V., Bambulyak, A., Rautio, R., Berg, T. E.: "Technological and environmental challenges of Arctic shipping - A case study of a fictional voyage in the Arctic". Also available in
Polar Research 2016, 35:27977.
(PDF)
Paper II: Larsen L-H., Sagerup. K., Ramsvatn, S.: "The Mussel Path - Using the contaminant tracer, Ecotracer, in Ecopath to model the spread of pollutants in an Arctic marine food web". Also available in
Ecological modelling 2016, 331:77-85.
(PDF)
Paper III: Sagerup, K., Nahrgang, J., Frantzen, M., Larsen, L-H., Geraudie, P.: "Biological effects of marine diesel oil on red king crab (Paralithodes camtschaticus) assessed through a water- and foodborne exposure experiment". Also available in
Marine Environmental Research 2016, 119:126-135.
(PDF)
Dato
2017-06-08
Type
Doctoral thesis
Doktorgradsavhandling
Sammendrag
Ocean shipping has for centuries been essential to mankind, and is the most efficient way of transporting goods across the world. With increasing global temperatures, the Arctic ice cap is reduced in thickness and extent, making Arctic shipping more feasible. The thesis looks into the biological and environmental implications of shipping in the European Arctic Seas. A scenario involving a shipping accident where a merchant vessel running on Marine Diesel Oil is wrecked, provides the input to modelling of the spread of contaminants through a shallow water Arctic marine ecosystem. The modelling exercise is supported by data on accumulation and excretion of PAH in a key predator of the ecosystem, generated through laboratory experiments. Data measured at an actual spill of diesel in the Arctic is also applied. Shipping in a future warmer Arctic is projected to include navigation during polar night, a period poorly covered by biological data. The study presents data on polar night fish feeding activity from five years of January sampling in the waters off Svalbard, indicating high biological activity and potentially similar vulnerability of the ecosystem during polar night as during the light part of the year.
Beskrivelse
Paper IV of this thesis is not available in Munin.
Paper IV: Larsen, L-H., Cusa, M., Eglund-Newby, S., Berge, J., Renaud, P. E., Falk-Petersen, S., Varpe, Ø.: "Feeding activity and diet of gadoid fish in Svalbard waters during the polar night". (Manuscript).
Forlag
UiT The Arctic University of Norway
UiT Norges arktiske universitet
Samlinger
Copyright 2017 The Author(s)
Følgende lisensfil er knyttet til denne innførselen: