Synthesis and inhibitor design of carbapenemase inhibitors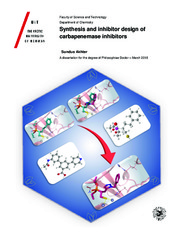 View/Open
Thesis introduction (PDF)
Paper I: Skagseth, S., Akhter, S., Paulsen, M.H., Mohammad, Z., Lauksund, S., Samuelsen, Ø., Leiros, H.K.S. & Bayer, A. (2017). Metallo-β-lactamase inhibitors by bioisosteric replacement: Preparation, activity and binding. (Including supplementary information.) Published version available in
European Journal of Medicinal Chemistry, 135, 159–173.
(PDF)
Paper III: Akhter, S., Lund, B.A., Ismael, A., Langer, M., Isaksson, J., Christopeit, T., … Bayer, A. (2018). A focused fragment library targeting the antibiotic resistance enzyme - Oxacillinase-48: Synthesis, structural evaluation and inhibitor design. (Including supporting information.) Published version available in
European Journal of Medicinal Chemistry, 2018, 145, 634–648.
(PDF)
Date
2018-05-24
Type
Doctoral thesis
Doktorgradsavhandling
Abstract
The efficiency of bacteria in acquiring resistance for their survival ensures a never-ending war against resistance. The only tactic to curtail the resistance crisis is to keep pace with it, e.g. by continuous development of new antibiotics with activity against resistant bacteria or revival of existing agents by inhibiting the mechanisms of resistance. β-lactams are the largest and most widely used group of antibiotics. In response to β-lactams, bacteria can produce β-lactamases (BLs), enzymes that are responsible for hydrolysis and inactivation of β-lactam antibiotics. Currently, the main concern is BLs with activity against carbapenems, which is our most important group of β-lactams for the treatment of serious and life-threatening infections. In addition to inactivating carbapenems, these carbapenemases can hydrolyze almost all groups of β-lactams. During our studies, we targeted several clinically relevant metallo-carbapenemases (VIM-2, NDM-1 and GIM-1) and a serine-carbapenemase (OXA-48) and aimed to develop potential inhibitors or fragments that can ultimately be used in combination therapy with antibiotics to prolong their lifetime thus restoring the antibiotic efficacy. Our inhibitors gave different levels of inhibition towards the carbapenemases tested during the course of the study. Moreover, the X-ray crystal structures of the enzyme-inhibitor complexes, reveal information relevant for further development of the inhibitors. Thus providing valuable starting points for the design of potent inhibitors.
Description
Paper II is not available in Munin:
Paper II: Zeeshan, M., Skagseth, S., Ahkter, S., Fröhlich, C., Christopeit, T., Bayer, A. & Leiros, H.K.S. Triazole inhibitors with promising inhibitory effects against antibiotic resistant metallo-β-lactamases. (Manuscript).
Publisher
UiT Norges arktiske universitet
UiT The Arctic University of Norway
Collections
Copyright 2018 The Author(s)
The following license file are associated with this item: