Anti-inflammatory, antioxidative and anti-atherogenic bioactivity in marine sources ascribed to nonlipid constituents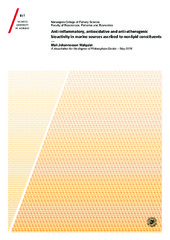 Åpne
Thesis introduction (PDF)
Paper I: Walquist, M.J., Stormo, S.K., Jensen, I-J., Østerud, B. & Eilertsen, K-E. (2017). Antioxidant and Anti-Inflammatory Activities in Extracts from Minke Whale (Balaenoptera acutorostrata) Blubber. Also available in
Mediators of Inflammation.
(PDF)
Paper II: Walquist, M.J., Stormo, S.K., Østerud, B., Elvevoll, E.O. & Eilertsen, K-E. (2018). Cold-pressed minke whale oil reduces circulating LDL/VLDL-cholesterol, lipid oxidation and atherogenesis in apolipoprotein Edeficient mice fed a Western-type diet for 13 weeks. Also available in
Nutrition & Metabolism, 15:35.
(PDF)
Paper III: Jensen, I-J., Walquist, M., Liaset, B., Elvevoll, E.O. & Eilertsen, K-E. (2016). Dietary intake of cod and scallop reduces atherosclerotic burden in female apolipoprotein E-deficient mice fed a Western-type high fat diet for 13 weeks. Also available in
Nutrition & Metabolism, 13:8.
(PDF)
Entire thesis in one comprehensive file (PDF)
Dato
2018-08-31
Type
Doctoral thesis
Doktorgradsavhandling
Sammendrag
Cardiovascular disease (CVD) has been, and continues to be, one of the main causes of global deaths. For decades, fish consumption has been acknowledged to reduce the risk of CVD, especially omega-3 fatty acids are known to have anti-inflammatory properties. Still, there are indications that beneficial effects are not limited to fatty acids alone. In this study, the bioactivity in marine sources ascribed to nonlipid constituents was investigated. Lipid-free extracts from cold-pressed whale oil (CWO) displayed antioxidative and anti-inflammatory effects in biochemical and cell assays. CWO had beneficial effects on the atherogenesis in apolipoprotein E-deficient (ApoE-/-) mice with reduced formation of lesions in the aortic arch, reduced cholesterol parameters and reduced weight whereas total antioxidant status and expression of several hepatic genes were heightened. A diet with a lean protein source of cod-scallop reduced the total aortic burden and reduced glucose and leptin levels in ApoE-/- mice when compared to chicken-fed ApoE-/- mice. This study provides novel insight into the putative protective mechanism of dietary supplement of CWO and cod-scallop in atherosclerosis and demonstrates the importance of further investigation of nonlipid bioactivity in marine sources.
Forlag
UiT The Arctic University of Norway
UiT Norges arktiske universitet
Samlinger
Copyright 2018 The Author(s)
Følgende lisensfil er knyttet til denne innførselen: