Ecophysiological Responses of Sea Ice Algae and Phytoplankton to a Changing Arctic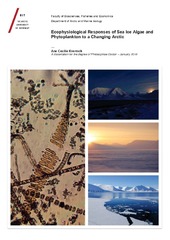 Åpne
Thesis introduction (PDF)
(PDF)
(PDF)
Dato
2019-03-29
Type
Doctoral thesis
Doktorgradsavhandling
Sammendrag
The ice-covered seas of the Arctic have two major types of primary producers; phytoplankton growing in open waters and sea ice algae growing within and on the underside of the sea ice. This thesis investigates the controlling role of light availability on Arctic pelagic and sympagic (i.e. ice-associated) algae, and how light-induced responses are modulated by NO3 and pCO2 levels. A combination of field sampling, in situ experimental studies, and laboratory experiments were performed in order to investigate photophysiological and biochemical characteristics of pelagic and sympagic algae and identify their respective responses to changes in their abiotic environment. The results revealed that in both pelagic and sympagic algae, a change in light availability exerted stronger control on photophysiological and biochemical characteristics than variations in NO3 and pCO2 levels. Pelagic algae have evolved pronounced mechanisms into being flexible with different irradiances they encounter in a wind-mixed pelagic environment. Even though the ambient light during the polar night was not enough to support any measurable net primary production, they maintained an active photosynthetic apparatus, which ensured a fast recovery and utilization of even very low constant irradiances upon re-illumination. Furthermore, they effectively exploited very low irradiances for carbon fixation, handled instantaneous light stress well, and exhibited high photoacclimative capacity towards increasing irradiances. In conclusion, these results imply a high capacity of pelagic algae to compensate for changes in the environment, which can be understood in light of environmental conditions they have adapted to. Sympagic algae also efficiently harvested low irradiances for light-dependent photosynthesis. However, they probably used more of the photosynthetic resources for tolerating extreme physico-chemical properties within sea ice, which resulted in lower rates of carbon assimilation compared to pelagic algae. Sympagic algae also showed higher sensitivity towards high light than pelagic algae, where the highest irradiances caused dysfunctional photophysiology and non-vital cells in the former. Moreover, they exhibited higher sensitivity towards a combination of multiple stressors. The Arctic ocean is changing fast in many respects, amongst which increased light regimes, stratification, and ocean pCO2 levels stand out as being most important for microalgal communities. The results of this study suggest that sea ice algae will struggle more with adapting to the expected environmental changes compared to phytoplankton. We therefore anticipate a change in sea ice-based vs. pelagic primary production with respect to timing and quantity in a future Arctic, with potentially cascading effects on downstream food webs. The clearly distinct responses of pelagic vs. sympagic algae to environmental differences also need to be incorporated into model-based scenarios of future Arctic algae blooms and considered when predicting implications for the entire ecosystem.
Har del(er)
Paper I: Kvernvik, A.C., Hoppe, C.J.M., Lawrenz, E., Prášil, O., Greenacre, M., Wiktor, J.M. & Leu, E. (2018). Fast reactivation of photosynthesis in arctic phytoplankton during the polar night. Journal of Phycology, 54, 461-470. The article is available in the file "thesis_entire.pdf". Also available at https://doi.org/10.1111/jpy.12750.
Paper II: Kvernvik, A.C., Hoppe, C.J.M., Greenacre, M., Verbiest, S., Wiktor, J.M., Gabrielsen, T.M., Reigstad, M. & Leu, E. Arctic sea ice algae differ markedly from phytoplankton in their ecophysiological characteristics. (Manuscript).
Paper III: Kvernvik, A.C., Rokitta, S.D., Leu, E., Harms, L., Gabrielsen, T.M., Rost, B. & Hoppe, C.J.M. Higher sensitivity towards light stress and ocean acidification in an Arctic sympagic compared to a pelagic diatom. (Submitted manuscript).
Forlag
UiT The Arctic University of Norway
UiT Norges arktiske universitet
Samlinger
Copyright 2019 The Author(s)
Følgende lisensfil er knyttet til denne innførselen: