Microbial eukaryotes and their functional importance in the Arctic. A Svalbardian perspective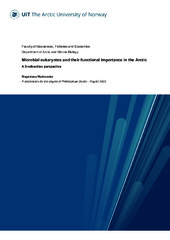 Åpne
Thesis introduction, Paper I and II (PDF)
Entire thesis in one comprehensive file (PDF)
Dato
2020-11-06
Type
Doctoral thesis
Doktorgradsavhandling
Sammendrag
Microbial eukaryotes, including protists and fungi, play diverse functions in virtually all ecosystems. In the High Arctic, their high biomass and diversity reflects crucial ecological importance and the performance of key ecological processes. Protists are the main primary producers in arctic seas, whereas fungi are an important group of decomposers and symbiotic partners of plants in terrestrial habitats. During the last decade, along with the development of new high-throughput sequencing methods, our knowledge regarding arctic microbial eukaryotes has expanded. Previous studies have identified the major groups of microbial eukaryotes present in Svalbard and how their richness and abundance may vary along various temporal and spatial scales. Those studies used high-throughput sequencing to reveal the dynamics, biodiversity patterns and community composition of diverse microbial eukaryotes such as marine protists, soil and root-associated fungi. However, altogether these studies have just scratched the surface of disentangling the biodiversity and its drivers. Basic questions regarding taxonomic diversity, community composition and their drivers are addressed in a limited manner, often leaving most of the observed variation unexplained. Regarding functionality of these organisms, even less is known. At the same time, these findings have also increased the amount of questions about microbial eukaryotes, their life histories, strategies, seasonality, sensitivity to changes in environmental conditions, as well as functional importance of these organisms at different scales.
Previously unexplained variation and other emerging knowledge gaps regarding microbial eukaryotes formed a backstage for this thesis. The main focus was to look at these organisms from a functional angle regarding variation related to methodology, seasonality and biotic factors through case studies addressing the following knowledge gaps. Firstly, to understand the functionality of biodiversity in a temporal and spatial context of cold soils, we need to determine if our methods estimate biodiversity of the active community of microbial eukaryotes. In other words, does DNA-based detection of species provide good enough approximation to continue or is a different methodology needed? We found that the choice of marker gene template influenced diversity measures and read numbers in abundant fungal groups such as Helotiales and Agaricales. However, it did not impact the community structure. Secondly, the aim was to understand the role of biodiversity and functionality of plant root-associated fungi in relation to host plant performance. We explored putative effects of fungal diversity on plant morphology and the interplay between functional diversity and abiotic factors in a spatial context. Our results revealed the importance of fungal richness and functional diversity, but no impact of community structure on plant morphometrics. Moreover, we showed that temperature affects fungal richness, below- and aboveground parts of the plant in different ways, making it difficult to predict its impact on the biological outcomes in natural systems. The third aim was to address the lack of polar night investigations of microbial eukaryotes in general, especially with a strong focus on their functions. Here, we investigated the impact of strong seasonality on functions of microbial eukaryotes in the marine environment. Community-level gene expression was driven primarily by seasonal patterns of light availability. Among the most expressed transcripts, nearly ⅔ transcripts were not functionally annotated, providing further evidence for distinct genetic makeup of the Arctic Ocean.
Through these three case studies, this thesis contributed some building blocks to close important knowledge gaps, but also revealed that there are more unknowns to be addressed. This thesis aimed to increase awareness of the importance of functional understanding of the roles of microbial eukaryotes in the High Arctic ecosystems. Finally, it highlights further possibilities and developments that could improve the understanding of possible future responses of these organisms and processes that they control.
Har del(er)
Paper I: Wutkowska, M., Vader, A., Mundra, S., Cooper, E.J. & Eidesen, P.B. (2019). Dead or Alive; or Does It Really Matter? Level of Congruency Between Trophic Modes in Total and Active Fungal Communities in High Arctic Soil. Frontiers in Microbiology, 9, 3243. Also available in Munin at https://hdl.handle.net/10037/15914 .
Paper II: Wutkowska, M., Ehrich, D., Mundra, S., Vader, A. & Eidesen, P.B. Can root-associated fungi mediate the impact of abiotic conditions on the growth of a High Arctic herb? (Manuscript). Also available at biorXiv.org, https://doi.org/10.1101/2020.06.20.157099.
Paper III: Wutkowska, M., Vader, A., Logares, R., Pelletier, E. & Gabrielsen, T.M. Linking extreme seasonality and gene expression in arctic marine protists. (Manuscript awaiting publication of TARA Oceans metatranscriptomics datasets before being ready to be published).
Forlag
UiT The Arctic University of Norway
UiT Norges arktiske universitet
Samlinger
Copyright 2020 The Author(s)
Følgende lisensfil er knyttet til denne innførselen: