Hybrid Tribunals as Capacity Building: Narrowing the Impunity Gap?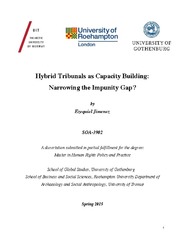 View/Open
Thesis for the Erasmus Mundus Human Rights Policy and Practice MA. Full text. (PDF)
Date
2015-05-22
Type
Master thesis
Mastergradsoppgave
Abstract
This thesis analyzes how hybrid tribunals might contribute to narrowing the impunity gap through their capacity building premise. It asks what capacity building recommendations can be drawn from situations where hybrid tribunals have been established. The thesis analyzes the Special Court for Sierra Leone (SCSL), the ongoing trials in the Extraordinary Chambers in the Courts of Cambodia (ECCC) and the unique judicial set up in the Bosnian War Crimes Chamber (BWCC) within the Court of Bosnia Herzegovina (BiH) with backing of the International Tribunal for the Former Yugoslavia (ICTY). Understanding that closing the impunity gap must begin at the domestic level, the extent of capacity building mechanisms developed by these tribunals will be a key parameter to conceptualize how they might create a strong domestic human rights normative framework equipped to uphold jus cogens. This, in turn, informs what policy recommendations might be available to strengthen the hybrid tribunal model in order to narrow the impunity gap.
Publisher
UiT Norges arktiske universitet
UiT The Arctic University of Norway
Collections
Copyright 2015 The Author(s)
The following license file are associated with this item: