HiPerWA: High Performance Wireless Analytics. A survey into the challenges of constructing, managing, debugging and optimizing an in-production large-scale enterprise network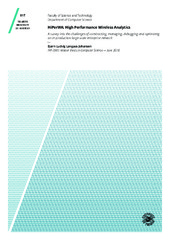 View/Open
(PDF)
Resources(source code, results, unpublished litterature) (Unknown)
Date
2016-06-01
Type
Master thesis
Mastergradsoppgave
Abstract
Enterprise wireless networks are becoming larger and larger, with more and more users and devices connecting to the networks. This requires the infrastructure to be closely monitored and adjusted to ensure an optimum experience for users and their devices. Existing proprietary solutions exist, but are either costly, resource demanding, rigid or may not be able to deliver the functionality that is required to operate a modern wireless infrastructure efficiently. In this project, a closer look has been taken at some of the key metrics from a wireless infrastructure, and what they can tell about the health and state of the infrastructure. These metrics has been collected by a modular, customizable implementation designed to be extensible and capable of delivering customized metrics and analytics that helps in the day to day operation of the infrastructure. As an example, information collected has been used to show how interference in high-density deployments of 2.4GHz 802.11 radios can be reduced by deactivating some of the radios to ensure a better 2.4GHz environment, and better client experience.
Publisher
UiT Norges arktiske universitet
UiT The Arctic University of Norway
Collections
Copyright 2016 The Author(s)
The following license file are associated with this item:
Related items
Showing items related by title, author, creator and subject.
Attah, Ambrose Ojadale

(

Master thesis; Mastergradsoppgave

,

2017-11-02

)

Nigeria is witnessing continuing advocacy and increase in number of individuals yearning for computerization of health information and healthcare processes. However, little is known about the opinions of the diverse healthcare providers who would ensure the successful implementation and meaningful use of health information technology in the country (Adeleke, Erinle et al. 2015). This study explores ...

Viken Valvåg, Steffen

(

Doctoral thesis; Doktorgradsavhandling

,

2012-01-30

)

MapReduce has become a widely employed programming model for large-scale data-intensive computations. Traditional MapReduce engines employ dynamic routing of data as a core mechanism for fault tolerance and load balancing. An alternative mechanism is static routing, which reduces the need to store temporary copies of intermediate data, but requires a tighter coupling between the components for ...

Dahle, Peter

(

Master thesis; Mastergradsoppgave

,

2007-06-15

)

Several actors are involved in all layers the handset architecture, from hardware producers to service providers, and the numbers are raising. Lack of collaboration amongst these actors across and within layers has led to a complex development-process of services and applications, which in turn leads to difficult use of such applications and services. In this thesis we took a closer look at the ...