Active Placebo - The relation of treatment expectancies to active analgesic treatments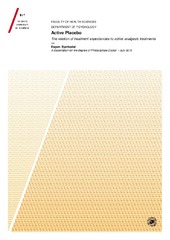 View/Open
Thesis introduction (PDF)
Paper I: Bjørkedal, E., Flaten, M. A.: "Interaction between expectancies and drug effects: an experimental investigation of placebo analgesia with caffeine as an active placebo". Also available in
Psychopharmacology 2011, 215(3):537-48.
(PDF)
Paper II: Bjørkedal, E., Flaten, M. A.: "Expectations of increased and decreased pain explain the effect of conditioned pain modulation in females". Also available in
Journal of Pain Research 2012, 5: 289–300.
(PDF)
Date
2016-11-25
Type
Doctoral thesis
Doktorgradsavhandling
Abstract
The placebo analgesic effect refers to the improvement in a group receiving an inert treatment compared to a group receiving no treatment. Conversely, nocebo hyperalgesia refers to the worsening in a group receiving an inert treatment compared to a no treatment control group. The hypothesis that active treatments, e.g. a drug, enhance the placebo effect has received some support but rarely been tested experimentally. In the present work this hypothesis was tested by administering caffeine or placebo to healthy subjects after induction of pain. Both caffeine and placebo were administered with information that they received a painkiller which would alleviate the pain or that they received a placebo with no effect. The effect of this manipulation was tested by comparing subjective and physiological responses to identical painful stimulation before and after treatment. It was predicted that the active drug would increase the placebo analgesic effect. The total treatment effect consists of the specific treatment response, e.g. the response to the pharmacological action of a drug, and the placebo response. Previous research indicate that the total treatment effect is modulated by placebo and nocebo responses, such that placebo responses increase the treatment effect and nocebo responses decrease it. The present work consists of two experiments that investigated the relation of placebo and nocebo responses to the treatment effect. In both experiments, pain was induced in healthy subjects before and after administering a known analgesic treatment with information that it was analgesic, hyperalgesic or with no specific information about its effect. We predicted that treatment effects would be enhanced by placebo information and reduced by nocebo information. The role of stress in placebo and nocebo responding was investigated by including subjective and physiological measures of stress. It was predicted that placebo responses was mediated by reductions in stress, while nocebo responses were mediated by increased stress. The results showed that a placebo response was only present when caffeine was administered. This supports the hypothesis that active drugs enhance placebo responses. It was further observed that the analgesic effect of a topical analgesic cream was reversed in the nocebo group and had a hyperalgesic effect. Placebo and nocebo responses were related to reduced and increased anticipatory stress, respectively, and anticipatory stress was a predictor of subsequent pain. The present work is relevant for both the design and interpretation of clinical trials and for clinical practice. Clinical trials assume that the only difference between drugs and placebos are the pharmacological action of the drug. However, if placebo responses are larger in the presence of the active drug the assumption might not always hold. The modulation of treatment effects by placebo and nocebo responses is relevant for maximizing treatment effects in clinical practice. Increasing positive expectations and decreasing stress is important to maximize placebo responses and minimize nocebo responses.
Description
The paper III of this theisis is not available in Munin.
Paper III: Aslaksen, P.M., Zwarg, M.L., Eilertsen, H-I.H., Gorecka, M.M, Bjørkedal, E.: "Opposite effects of the same drug: reversal of topical analgesia by nocebo information". Available in
Pain 2015, 156 (1): 39-46.
Publisher
UiT The Arctic University of Norway
UiT Norges arktiske universitet
Collections
Copyright 2016 The Author(s)
The following license file are associated with this item: