Immunological markers in non-small cell lung cancer (NSCLC)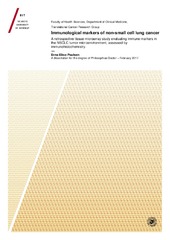 View/Open
Thesis (PDF)
Paper I: Paulsen, E. E., Kilvaer, T., Khanehkenari, M. R., Maurseth, R. J., Al-Saad, S., Hald, S. M., Al-Shibli, K., Andersen, S., Richardsen, E., Busund, L-T., Bremnes, R. M., Donnem, T.: "CD45RO+ memory T lymphocytes - a candidate marker for TNM-Immunoscore in squamous non-small cell lung cancer". Also available at
Neoplasia 2015, 17:839–48.
(PDF)
Paper II: Paulsen, E. E., Kilvaer, T. K., Khanehkenari, M. R., Al-Saad, S., Hald, S. M., Andersen, S., Richardsen, E., Ness, N., Busund, L-T., Bremnes, R. M., Donnem, T.: "Assessing PD-L1 and PD-1 in Non-small cell lung cancer (NSCLC): a novel immunoscore approach". Also available in
Clinical Lung Cancer 2016.
(PDF)
Date
2017-02-17
Type
Doctoral thesis
Doktorgradsavhandling
Abstract
Lung cancer is the leading cause of cancer-related mortality worldwide, and novel prognostic factors supplementing the TNM classification are needed. The type, density and location of immune cell subsets in the tumor microenvironment ("Immunoscore") may influence patient outcome in cancers, including non-small cell lung cancer (NSCLC). Tumor infiltrating cytotoxic (CD8+) T cells, the major anticancer effector cells, are predictive of improved prognoses in NSCLC. The importance of memory T cells (CD45RO+), which can provide long-term antitumor response, is uncertain in NSCLC. Drugs targeting "Immune checkpoints", which negatively regulate T cell activation and function (e.g. CTLA-4 and PD-1/PD-L1), have impressive efficacy in some NSCLC patients, but the prognostic impact of immune checkpoint molecules in NSCLC is disputed. We aimed to investigate the prognostic impact of important immune markers (CD45RO, CD8, PD-1, PD-L1 and CTLA-4) in NSCLC. We constructed tissue microarrays from primary tumors and metastatic lymph nodes retrospectively collected from 536 surgically treated stage I-IIIA NSCLC patients. By immunohistochemistry, we evaluated the in situ expression of the immune markers of malignant and non-malignant cells in the NSCLC tumor microenvironment. We demonstrated that infiltration by CD45RO+ T cells was a robust prognosticator of improved survival in NSCLC patients with squamous cell carcinoma (SCC), especially when combined with CD8+ T cells. The combined score is a candidate for inclusion in a NSCLC Immunoscore, supplementing the TNM-classification in SCC patients. Overexpression of PD-1/PD-L1 in immune cells of SCC primary tumors was independently associated with a positive prognosis in all pathological stages, apparently reflecting the presence of an activated immune system. CTLA-4 expression was an independent negative prognostic factor in lymph node metastasis only. Our studies highlight differences between NSCLC histological subgroups and heterogeneity between primary tumors and corresponding metastases, and identified novel prognostic factors which may improve prognostic accuracy for NSCLC subgroups.
Description
The paper III of this thesis is not available in Munin.
Paper III: Paulsen, E. E., Kilvaer, T. K., Khanehkenari, M. R., Richardsen, E., Hald, S. M., Andersen, S., Busund, L-T., Bremnes, R. M., Donnem, T.: "CTLA-4 expression in the NSCLC tumor microenvironment: diverging prognostic impact in primary tumors and lymph node metastases". (Manuscript).
Publisher
UiT The Arctic University of Norway
UiT Norges arktiske universitet
Collections
Copyright 2017 The Author(s)
The following license file are associated with this item: