Social media and sexual health – New arenas for information on sexually transmitted infections and promotion of healthy sexual behavior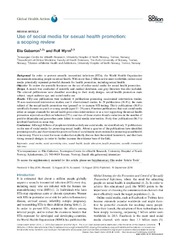 View/Open
Paper 3: "Gabarron, E., Serrano, J. A., Wynn, R., Lau, A. Y. S.: "Tweet content related to sexually transmitted diseases: No joking matter". Also available in
J Med Internet Res 2014, 16(10):e228.
(PDF)
Paper 4: Gabarron, E., Lau, A. Y. S., Wynn, R.: "Is there a weekly pattern for Health Searches on Wikipedia and Is the Pattern Unique to Health Topics?" Also available in
J Med Internet Res 2015,17(12):e286.
(PDF)
Thesis (PDF)
Date
2017-05-05
Type
Doctoral thesis
Doktorgradsavhandling
Abstract
Objectives: The objectives of this thesis are to investigate the use of social media for health promotion dealing with sexually transmitted infections, their value for improving health and increasing the promotion reach, and to provide examples on how social media users retrieve information about sexually- transmitted infections from these media. I want to investigate the nature of the information in a sample of messages that are shared on social media about sexually transmitted infections, the actors involved, and the patterns of online sexual health information-seeking.
Methods: The objectives were addressed in four separate studies, which used different methodologies: a scoping review, an intervention case study, and two observational studies.
Results: In the review it can be seen that the evidence supporting the use of social media for sexual health promotion is still insufficient. There are few publications with strong study designs using social media for this purpose, however, promising results regarding increasing promotion reach and improving health are found. The intervention case study is an example of how online social media can be used for promoting educational sites on sexual health. In one of the observational studies it can be seen how online social media users tweet about sexually transmitted infections, and that information posted online spreads rapidly, reaching a huge number of people. The other study shows that people search for information about sexually- transmitted infections, and that searches for this information on social media appears to follow a weekly pattern.
Conclusions: Although more studies of higher quality are needed before stronger claims can be made, the research literature and the results of the present investigation suggest that social media might be relevant resources for sexual health promotion and education purposes. The observation of behaviours on social media offers the possibility of identifying sexual health concerns, interests, misinformation, attitudes, or information-seeking patterns in an online community, with the possibility of using this information for subsequent health promotion purposes. The widespread acceptance of online social media, their potential for reaching a huge number of people in a very short time, and users' interest in sexual health topics, suggest that these networks can be valuable in promoting sexual health.
Description
The paper 2 of this thesis is not available in Munin.
Paper 2: Gabarron, E., Fernández-Luque, L., Schopf, T., Lau, A. Y. S., Armayones, M., Wynn, R., Serrano, J. A.:" Impact of Facebook ads for sexual health promotion via an educational web app: A case study". (Manuscript). Published version available in
: International Journal of E-Health and Medical Communications 2017, 8(2).
Publisher
UiT The Arctic University of Norway
UiT Norges arktiske universitet
Collections
Copyright 2017 The Author(s)
The following license file are associated with this item: