Uric acid and adiponectin in cardiovascular disease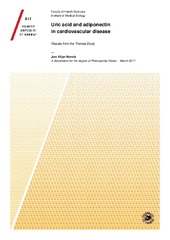 View/Open
Thesis (PDF)
Paper 1: Norvik, J. V., Storhaug, H. M., Ytrehus, K., Jenssen, T. G., Zykova, S. N., Eriksen, B. O., Solbu, M. D.: "Overweight Modifies the Longitudinal Association between Uric Acid and some Components of the Metabolic Syndrome: The Tromsø Study". Also available in
BMC Cardiovasc Disord. 2016;16(1):85.
(PDF)
Date
2017-04-20
Type
Doctoral thesis
Doktorgradsavhandling
Abstract
Uric acid, a product of metabolism, was discovered a quarter of a millennium ago and has been known to be a possible cardiovascular risk factor for well over a century. A much newer discovery, adiponectin, was discovered only a little more than 20 years ago as a protein hormone secreted by adipose tissue and has attracted substantial attention for its association with cardiovascular disease. This thesis will examine the modifying action of overweight on the relationship between uric acid levels and metabolic syndrome, the association between uric acid levels and adverse cardiovascular events and mortality in subjects with or without diastolic dysfunction, and the sex-specific association between adiponectin levels and diastolic dysfunction. In addition, this thesis will determine whether a relevant interaction between uric acid and adiponectin exists with respect to diastolic dysfunction. Paper 1, a seven-year prospective study with over 6,000 participants, examines whether overweight modifies the association between the uric acid levels and metabolic syndrome. In overweight but not normal-weight subjects, the baseline uric acid levels predicted the development of elevated blood pressure and elevated fasting glucose levels. The baseline uric acid levels and changes in the uric acid levels over seven years predicted metabolic syndrome and most of its components. A 19-year prospective study of 1,460 women and 1,480 men with endpoints of all-cause mortality, incident myocardial infarction and incident ischaemic stroke is described in Paper 2. Uric acid levels were a predictor of all-cause mortality in subjects with echocardiographic markers of diastolic dysfunction but not in subjects without these markers. Uric acid levels were a stronger predictor of incident ischaemic stroke in subjects with severely enlarged atria than in subjects with normal-sized atria. Paper 3 describes a cross-sectional study of 1,165 women and 896 men and the sex-specific relationship between adiponectin levels and diastolic dysfunction. Lower adiponectin levels were associated with greater odds of echocardiographic indices of diastolic dysfunction in women but lower odds of diastolic dysfunction in men. Additionally, lower adiponectin levels were associated with a higher left ventricular mass in women only. An interaction between uric acid and adiponectin levels was not observed for any marker of diastolic dysfunction. These findings support an association between uric acid levels and increased cardiovascular risk, with detrimental effects observed in subjects who already present a state of metabolic derangement and an elevated risk, such as overweight persons and subjects with diastolic dysfunction. Furthermore, adiponectin levels, and thus adipose tissue function, may provide a clue to why heart failure with preserved ejection fraction shows a female preponderance.
Description
The papers 2 and 3 of this thesis are not available in Munin.
Paper 2: Norvik, J. V., Schirmer, H., Ytrehus, K., Storhaug, H. M., Jenssen, T. G., Eriksen, B. O., Mathiesen, E. B., Løchen, M. L., Wilsgaard, T., Solbu, M. D.: "Uric Acid Predicts Mortality and Ischaemic Stroke in Subjects with Diastolic Dysfunction: The Tromsø Study 1994- 2013". (Manuscript). Published version available in ESC Heart Fail. 2017 May; 4(2): 154–161.
Paper 3: Norvik, J. V., Schirmer, H., Ytrehus, K., Jenssen, T. G., Zykova, S. N., Eggen, A. E., Eriksen, B. O., Solbu, M. D.: "Low Adiponectin is Associated with Diastolic Dysfunction in Women: a Cross-sectional Study from The Tromsø Study". (Manuscript). Published version available in BMC Cardiovasc Disord. 2017; 17: 79.
Publisher
UiT The Arctic University of Norway
UiT Norges arktiske universitet
Collections
Copyright 2017 The Author(s)
The following license file are associated with this item:
Related items
Showing items related by title, author, creator and subject.
Andersen, Sigve

;

Dønnem, Tom

;

Al-Shibli, Khalid Ibrahim

;

Al-Saad, Samer

;

Stenvold, Helge

;

Busund, Lill-Tove

;

Bremnes, Roy M.

(

Journal article; Tidsskriftartikkel; Peer reviewed

,

2011

)

Angiopoietins and their receptor Tie-2 are, in concert with VEGF-A, key mediators in angiogenesis. This study evaluates the prognostic impact of all known human angiopoietins (Ang-1, Ang-2 and Ang-4) and their receptor Tie-2, as well as their relation to the prognostic expression of VEGF-A. 335 unselected stage I-IIIA NSCLC-patients were included and tissue samples of respective tumor cells and ...

Frid, Paula

(

Doctoral thesis; Doktorgradsavhandling

,

2020-10-02

)

The temporomandibular joint (TMJ) is commonly involved in juvenile idiopathic arthritis (JIA), and may lead to impaired mouth opening, pain and facial growth disturbances. Asymptomatic TMJ arthritis may be diagnosed late in the disease course, thus management is challenging. The overall objectives of this thesis were to provide new knowledge on quality of life (QoL), the oral microbiome and interventions ...

Gabrielsen, Endre

(

Master thesis; Mastergradsoppgave

,

2012-06-01

)

I 1983 oppdaget zur Hausen sammenhengen mellom Humant Papillomavirus (HPV) og livmorhalskreft. På denne tiden visste man ikke at det var HPV som var årsaken til at Helaceller kunne leve in vitro. Ny forskning relaterer HPV til en rekke andre cancertyper. En stor andel anal-, oropharyngeal-, penis-, vaginal-, og vulvacancer skyldes HPV. Det er også påvist HPV i tumorvev fra øsofagus, larynx, lunge, ...