Interaction and mutuality in physical therapy for preterm infants and their parents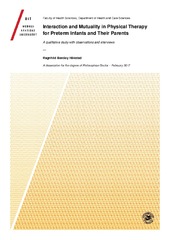 View/Open
Thesis (PDF)
Paper I: Håkstad, R. B., Obstfelder, A., Øberg, G. K.: «Parents' Perceptions of Primary Health Care Physiotherapy With Preterm Infants: Normalization, Clarity, and Trust". Accepted manuscript version. Also available in
Qualitative Health Research 2015, 26(10):1341-1350.
(PDF)
Date
2017-06-15
Type
Doctoral thesis
Doktorgradsavhandling
Abstract
In Norway, PTs in the municipalities deliver family-centered services to preterm infants and their parents. In addition to the prevention, detection and treatment of motor impairments, PTs are expected to educate parents and help them adapt to life with a preterm infant. In this doctoral project, we investigated physical therapy for preterm infants and their parents during the first year post-hospital discharge. We aimed to identify elements that are essential to PTs' promotion of preterm infants' motor development and enablement of parents as caregivers for their child. The study was qualitative and we collected data via video-recorded observation of physical therapy sessions and individual interviews with PTs and parents. In the analysis, we connected to enactive theoretical perspectives regarding infant development and learning, sense-making and cooperation. Paper I demonstrated how the parents' learning about their infant's sensory-motor capabilities contributed to their coping abilities as caregivers for their preterm child. In paper II, we established the concept 'enactive therapeutic sensory-motor play', which describes how the PTs' merging of targeted therapeutic actions with the infant's initiatives and engagement can facilitate the infant's playful learning of motor skills. In Paper III we investigated how the PTs' collaborative, embodied-enactive clinical reasoning extended their therapeutic repertoire and enabled a tailoring of intervention to the infant's and parent(s)' needs. The papers demonstrate that both PTs and parents are important facilitators of the preterm infant's motor achievements and need to work together in their exploration of how to improve the infant's motor performance and engage the infant in playful motor learning. The therapeutic encounters include a multitude of interactional constellations in which the infant, parent(s) and PT can all be active participants or play the role of a third-party outsider. A skillful PT attends to these dynamics and allows for fluency in their mutual, cooperative learning of playful movement possibilities and skills.
Description
The paper III of this thesis is not available in Munin.
Paper III: Håkstad, R. B.: "A Qualitative Study of Clinical Reasoning in Physiotherapy with Preterm Infants and Their Parents: Action and Interaction". (Manuscript).
Publisher
UiT The Arctic University of Norway
UiT Norges arktiske universitet
Collections
Copyright 2017 The Author(s)
The following license file are associated with this item: