Overweight, body size perceptions, lifestyle changes and health concerns in young adults. The Tromsø Study, Fit Futures . A combined approach using qualitative interviews and a population-based cross-sectional study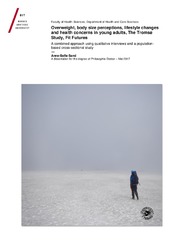 View/Open
Thesis (PDF)
Paper II: Sand, A. S., Emaus, N., Lian, O. S.: "Motivation and obstacles for weight management among young women – a qualitative study with a public health focus - The Tromsø Study: Fit Futures". Also available in
BMC Public Health 2017, 17:417.
(PDF)
Paper III: Sand, A. S., Furberg, A. S., Lian, O. S., Nielsen, C. S., Pettersen, G., Winther, A., Emaus, N. "Cross-sectional study on differences between measured, perceived and desired body size and the relation to self-perceived health in young adults: The Tromsø Study – Fit Futures". Also available in
Scandinavian Journal of Public Health 2017, 45:322-330.
(PDF)
Date
2017-10-13
Type
Doctoral thesis
Doktorgradsavhandling
Abstract
The aims of this thesis were to expand our knowledge on overweight issues including motivation and obstacles for weight management in the young, and especially the female population. Late adolescence and early adulthood are important stages of life regarding lifestyle habits. There has been a lack of research into environmental determinants of food choices, physical activity and body size perceptions in the young population. A combined approach using qualitative and quantitative methods was used in the study. The second wave of the cross-sectional youth cohort survey Fit Futures, part of the Tromsø Study, formed the basis of the quantitative part. The sample for the present study consisted of 629 young women and men, 18-22 years old. The participants for the qualitative part of the study were recruited from the same cohort. This part of the study was accomplished as semi-structured life-world interviews with 12 young women, 18-20 years old. The results show that young women experience a huge focus on overweight issues with an attention on appearance rather than health. We found presence of motivation for lifestyle changes, not just dependent on weight management. Challenges and obstacles for weight management connected to the transitions to independent adult life were also described. We found high prevalence of overweight and obesity in both genders. Body size confusion and weight change wishes were widespread, but not related to self-perceived health. We suggest a more relaxed attitude towards appearance and more attention on health and well-being when addressing overweight issues in the young. Health education and affordable healthy food and sports activities should be considered. The lack of relation between body size confusion, body size dissatisfaction and self-perceived health in both genders was difficult to interpret. The explanation might be found in how the young define and percept their own health.
Publisher
UiT The Arctic University of Norway
UiT Norges arktiske universitet
Collections
Copyright 2017 The Author(s)
The following license file are associated with this item: