Pharmacological Approaches To Management Of Hypothermia-Induced Cardiac Dysfunction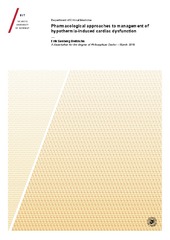 Åpne
Thesis (PDF)
Paper I: Dietrichs, E. S., Schanche, T., Kondratiev, T., Gaustad, S. E., Sager, G. & Tveita, T. (2015). Negative inotropic effect of epinephrine in the presence of increased β-receptor. Also available in
Cryobiology. 70(1):9-16.
(PDF)
Paper II: Dietrichs, E. S., Kondratiev, T. & Tveita, T. (2014). Milrinone ameliorates cardiac mechanical dysfunction after hypothermia in an intact rat model. Also available in
Cryobiology 2014, 69: 361–366.
(PDF)
Paper III: Dietrichs, E. S., Håheim, B., Kondratiev, T., Sieck, G. & Tveita, T. (2014) Cardiovascular effects of levosimendan during rewarming from hypothermia in rat. Also available in
Cryobiology 2014, 69:402–410.
(PDF)
Dato
2015-03-20
Type
Doctoral thesis
Doktorgradsavhandling
Sammendrag
We performed randomized, controlled experimental studies in an intact rat model and in isolated rat cardiomyocytes with the following aims: Paper I: To investigate the effects of epinephrine during hypothermia and after rewarming and determine hypothermia-induced effects on in vivo and in vitro cardiac β-receptor sensitivity. Paper II: To describe hemodynamic responses to the phosphodiesterase 3 (PDE3) inhibitor milrinone when compared to saline infusion during rewarming from deep, stable hypothermia (15°C). Paper III: To describe hemodynamic response and phosphorylation of cardiac troponin I (cTnI) during rewarming from deep, stable hypothermia with use of the calcium sensitizer and PDE3 inhibitor levosimendan, compared to animals given placebo. Main results and conclusions: β-receptor sensitivity is increased in hypothermia (15°C) compared to normothermia (37°C) (paper I), but administering epinephrine at 15°C had adverse effects, expressed with increased afterload and negative inotropy. Cardiac dysfunction during rewarming from stable hypothermia is however ameliorated by PDE3 inhibition alone (paper I) and combined with calcium sensitizing (paper III). PDE3 inhibition through levosimendan possesses the ability to increase cTnI phosphorylation after rewarming from stable hypothermia (paper III). Treatment of hypothermia-induced cardiac dysfunction is therefore better achieved through intracellular strategies like PDE3 inhibition and calcium sensitizing than β-receptor stimulation.
Forlag
UiT The Arctic University of Norway
UiT Norges arktiske universitet
Følgende lisensfil er knyttet til denne innførselen:
Relaterte innførsler
Viser innførsler relatert til tittel, forfatter og emneord.
Andersen, Sigve

;

Dønnem, Tom

;

Al-Shibli, Khalid Ibrahim

;

Al-Saad, Samer

;

Stenvold, Helge

;

Busund, Lill-Tove

;

Bremnes, Roy M.

(

Journal article; Tidsskriftartikkel; Peer reviewed

,

2011

)

Angiopoietins and their receptor Tie-2 are, in concert with VEGF-A, key mediators in angiogenesis. This study evaluates the prognostic impact of all known human angiopoietins (Ang-1, Ang-2 and Ang-4) and their receptor Tie-2, as well as their relation to the prognostic expression of VEGF-A. 335 unselected stage I-IIIA NSCLC-patients were included and tissue samples of respective tumor cells and ...

Gabrielsen, Endre

(

Master thesis; Mastergradsoppgave

,

2012-06-01

)

I 1983 oppdaget zur Hausen sammenhengen mellom Humant Papillomavirus (HPV) og livmorhalskreft. På denne tiden visste man ikke at det var HPV som var årsaken til at Helaceller kunne leve in vitro. Ny forskning relaterer HPV til en rekke andre cancertyper. En stor andel anal-, oropharyngeal-, penis-, vaginal-, og vulvacancer skyldes HPV. Det er også påvist HPV i tumorvev fra øsofagus, larynx, lunge, ...

Songstad, Nils Thomas

(

Doctoral thesis; Doktorgradsavhandling

,

2014-09-18

)

Objectives: To investigate how cardiac function, remodeling and gene expression are affected in pregnancy in response to cardiovascular stress, to detect possible adverse effects on the fetus, and to evaluate if coronary endothelial function is influenced by pregnancy and increased cardiac afterload. Methods: Pregnant and non-pregnant rats were subjected to chronic AngII-infusion, transverse aortic ...