Sociosexual behaviors and reproductive success in a group of rats housed in seminatural environment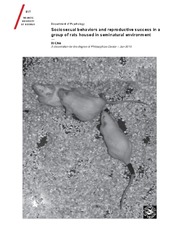 View/Open
Thesis (PDF)
Paper 2: Chu, X., & Ågmo, A. (2015). Sociosexual behaviors during the transition from non-receptivity to receptivity in rats housed in a seminatural environment. Also available in
Behavioural Processes, 113. 24-34.
(PDF)
Paper 4: Chu, X., Guarraci, F. A. & Ågmo, A. Sociosexual behaviors and reproductive success of rats (Rattus norvegicus) in a seminatural environment. (Manuscript). Published version available in
Physiology & Behavior 151, 46-54.
(PDF)
Date
2015-04-20
Type
Doctoral thesis
Doktorgradsavhandling
Abstract
Wild rats employ a rather extensive area for their daily activities and share elaborate burrows with tunnel and chambers. When a female enters estrus, she will copulate with multiple males during the entire period of estrus. In a typical laboratory setting, rat sexual behavior is studied in pairs of opposite sex individuals. Apparently the experimental studies have been performed in this highly artificial setting is with low or no ecological validity. Thereby, we initiated systematic examinations of the behavioral effects of male and female in an ecologically valid context. Five groups of 4 intact cycling females and 3 intact males living in a seminatural environment (consisting of a big open area and complex burrow system) for a period of 8 days were used in this study. Sociosexual activities were recoded and analyzed from the beginning of the behavioral estrus until the end of it. During this period, female was sexually receptive to every male mount and showed no significant partner preference or avoidance to a particular male. Males and females copulate simultaneously in a rather random way. The sexual behavior of both sexes changes abruptly in the transition periods from nonreceptivity to receptivity and vice versa. Male did not mount on female before the first lordosis and after the last of her behavioral estrus. Females hardly displayed paracopulatory behavior (darting, running and ear wiggling), and male pursuit of females was very low outside of behavioral estrus. Instead of ejaculatory series, male behavior was observed in copulatory bout. The intensity of male sociosexual interaction is stable throughout the copulatory bout. Female sexual behavior was irrelevant of number of offspring, yet males with more intromissions and ejaculations achieved greater reproductive success. Both mount frequency and non-sexual interactions were unrelated to male fertility as well as the order of ejaculations did not determine reproductive advantage. Male and female preferences slightly influenced fertility in rats. Dominance in male showed no impact in reproductive success. Sexual events occurred mainly in the open area and social events in the burrow.
Description
The papers 1 and 3 of this thesis are not available in Munin.
Paper 1: Chu, X. & Ågmo, A. (2014). Sociosexual behaviours in cycling, intact female rats (Rattus norvegicus) housed in a seminatural environment. Available in
Behaviour, 151(8), 1143 – 1184.
Paper 3: Chu, X., & Ågmo, A. (2015). Sociosexual behaviors of male rats (Rattus norvegicus) in a seminatural environment. Available in
Journal of Comparative Psychology, 129(2), 132-144.
Publisher
UiT The Arctic University of Norway
UiT Norges arktiske universitet
The following license file are associated with this item: