Alcohol prevention among adolescents - A study on determinants and parental influence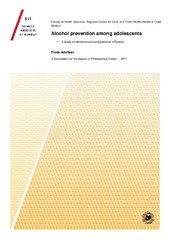 View/Open
Thesis (PDF)
Paper II: Strøm, H. K., Adolfsen, F., Handegård, B. H., Natvig, H., Eisemann, M., Martinussen, M., & Koposov, R. A. (2015). Preventing alcohol use with a universal school-based intervention: Results from an effectiveness study. Also available in
BMC Public Health, 15:337. (PDF)
Paper III. Adolfsen, F., Strøm, H. K., Martinussen M., Natvig, H., Eisemann, M., Handegård, B. H., & Koposov, R. (2017). Parent participation in alcohol prevention. Also available in
Nordic Studies on Alcohol and Drugs 2017, 34(6).
(PDF)
Date
2018-03-09
Type
Doctoral thesis
Doktorgradsavhandling
Abstract
The main goal of this thesis was to evaluate the effectiveness of an alcohol prevention program both for parents and adolescents in Norway.The aim of the first study was to estimate the prevalence of alcohol drinking among Norwegian adolescents, as well as to identify determinants associated with early onset of drinking and test models for predicting early onset. The study showed that approximately one in four of the 13-14 year olds in the study had tried alcohol. Different variables were associated with increased risk of early onset of drinking, such as smoking, school performance, and bullying. The aim of the second study was to evaluate the effectiveness of the Norwegian Unge & Rus (Youth and Alcohol) program among adolescents. To achieve this, a longitudinal quasi-experimental comparison group design was used. The student part of the program was evaluated according to the program goals, which included knowledge and critical thinking about alcohol, to strengthen attitudes against alcohol and to reinforce the ability to say no to alcohol. The results showed no differences in the rate of change between the groups on essential variables such as alcohol use, attitudes, or alcohol expectancies. The aim of the third study was to evaluate the effectiveness of the parent part of the Unge & Rus program, including parents' attitudes and rules towards adolescent alcohol use, their ability to talk to their adolescents about alcohol, and their relationship to and knowledge about their adolescent. There were no differences in the rate of change between the two parent groups on rules and attitudes at any of the three follow-up time points. Parents reported strict rules towards adolescent drinking in both groups, which lasted throughout the study. This evaluation of the Unge & Rus program showed no significant effect on the program goals related to adolescents and parents.
Description
The paper I of this thesis, Adolfsen, F., Strøm, H. K., Martinussen M., Natvig, H., Eisemann, M., Handegård, B. H., & Koposov, R. (2014). "Early drinking onset: A study of prevalence and determinants among 13-years old adolescents in Norway" is available in accepted manuscript version in Munin at
https://munin.uit.no/handle/10037/7526.
Published version available in
Scandinavian Journal of Psychology, 55: 505-512.
Publisher
UiT The Arctic University of Norway
UiT Norges arktiske universitet
Collections
Copyright 2018 The Author(s)
The following license file are associated with this item: