Solutions to some problems related to Diophantine equation, power means and homogenization theory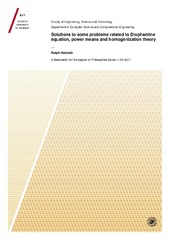 Date
2017-05-19
Type
Doctoral thesis
Doktorgradsavhandling
Abstract
This Ph.D. thesis consists of an introduction and 7 papers where we investigate the requirements for finding integer or rational solutions to a selection of Diophantine equations leading to problems connected to power means and homogenization. In Paper 1 we present a modern view of classic number theory in a historic context. In Paper 2 we introduce the Crossed Ladders Problem and present a proof of an infinite and complete parametric representation of integer valued solutions to a set of corresponding Diophantine equations. Moreover, we point out a connection between certain classes of the solutions and the Pell numbers series. In Paper 3 we investigate a particular form of the Crossed Ladders Problem, finding many parametrized solutions, some polynomial, and some involving Fibonacci and Lucas sequences. We establish a connection between this particular form and a quartic equation studied by Euler, giving corresponding solutions to the latter. In Paper 4 we study the connection between the crossed ladders problem and certain power means. We prove that we geometrically can construct a number of power means of two variables of different lengths using the crossed ladders geometric structure. In Paper 5 we consider the problem of determining integers a and b such that the corresponding power mean of order k becomes integer valued. By using a variant of Fermat s Last Theorem we show that the problem has no solutions for particular cases. In Paper 6 we study a scale of two-component composite structures of equal proportions with infinitely many microlevels. The structures are obtained recursively and we find that their effective conductivities are power means of the local conductivities. In Paper 7 we consider laminates with a power-law relation between the temperature gradient and the heat flux characterized by some constant. In particular, we discuss the problem of determining what positive integer combinations of the local conductivities and the power which make the effective conductivity integer valued.
Description
The papers I-VI in this thesis are not available in Munin.
Paper I: Høibakk, R. (2016). A modern view of classic number theory. (Manuscript)
Paper II: Høibakk, R., Jorstad, T., Lukkassen, D. & Lystad, L.-P. (2008). Integer Crossed Ladders; parametric representation and minimal integer values. Available in Normat 56 (2): 68-79.
Paper III: Bremner, A., Høibakk, R. & Lukkassen, D. (2009). Crossed ladders and Euler.s quartic. Available in Ann. Math. Inform. 36: 29-41.
Paper IV. Høibakk, R. & Lukkassen, D. (2008). Crossed ladders and power means. Available in
http://doi.org/10.4171/EM/99
Elem. Math. 63(3):137-140.
Paper V. Høibakk, R. & Lukkassen, D. (2009). Power means with integer values. Available in
http://doi.org/10.4171/EM/123.
Elem. Math. 64(3):122-128.
Paper VI: Meidell, A., Høibakk, R., Lukkassen, D. & Beeri, G. (2008). Two-component composites whose exective conductivities are power means of the local conductivities. Available in
https://doi.org/10.1017/S095679250800747X.
European J. Appl. Math. 19:507-517.
Publisher
UiT Norges arktiske universitet
UiT The Arctic University of Norway
The following license file are associated with this item:
Related items
Showing items related by title, author, creator and subject.
Baadshaug, Ole

(

Master thesis; Mastergradsoppgave

,

2018-06-29

)

Moving icebergs represent a major problem for shipping, as well as for oil and gas installations in ice infested waters. To be able to take actions against hazardous icebergs, it is necessary to develop models for prediction of iceberg drift trajectories. Many models have been developed in order to do so, using different approaches. These approaches can be divided into two main categories, dynamic ...

Schulz, Jörn

(

Doctoral thesis; Doktorgradsavhandling

,

2013-12-18

)

The use of statistical shape analysis in medical settings has increased during the last decades. This thesis presents contributions to three major topics of statistical shape analysis with application to medical problems. These topics are: the modeling of the shape by a geometrical model, the study of rotational shape deformations and the comparison of shapes between populations. Paper I presents ...

Johansen, Thomas A. Haugland

(

Master thesis; Mastergradsoppgave

,

2016-12-08

)

The key objectives in this thesis are; the study of GPU-accelerated eigenvalue decomposition in an effort to uncover both benefits and pitfalls, and then to investigate and facilitate a future GPU implementation of the symmetric QR algorithm with permutations. With the current trend of having ever larger datasets both in terms of features and observations, we propose that GPU computation can help ...