Live-storage of wild mature cod (Gadus morhua L.) without feed supply. Effects on biological and quality properties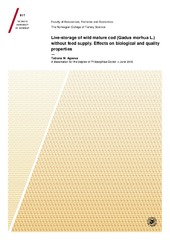 Åpne
thesis introduction (PDF)
Ageeva, T. N., Jobling, M., Olsen, R. L., & Esaiassen, M. (2017). Gender-specific response of mature Atlantic cod (Gadus morhua L.) to feed deprivation. Also available in
Fisheries Research. 188: 95-99.
(PDF)
Paper III: Ageeva, T. N., Olsen, R. L., Joensen, S., & Esaiassen, M. (2018). Quality aspects of fillet, loin and tail products made from live-stored feed-deprived Atlantic cod (Gadus morhua L.) at different times post mortem. (Submitted manuscript). Published version available in
LWT – Food Science and Technology, 97, 656-661.
(PDF)
Dato
2018-09-28
Type
Doctoral thesis
Doktorgradsavhandling
Sammendrag
The overall aim of this work was to obtain better understanding of how live-storage without feeding affects wild mature Atlantic cod (Gadus morhua L.) and quality of products obtained from such cod. Atlantic cod were live-stored without feeding for 82 days. First, gender-specific weight changes in both whole and gutted fish, as well as certain organs were studied (Paper I). Next, the effects of feed deprivation on development of rigor mortis, as well as aspects of muscle properties were investigated (Paper II). Finally, changes in quality of fillet products, both due to feed deprivation and different times of processing were studied (Paper III). The results showed that the cod were spawning during the first 54 days in captivity, leading to a great loss of total weight. The main changes in gutted weight were detected in the post-spawning period. Females were affected more severely by feed deprivation than males. This sexual dimorphism became more evident towards the termination of the trial, when females had lost more total and gutted weights, liver mass and had a significantly lower muscle protein concentration than males. Feed deprivation for 23 days reduced pre rigor time from 29 to 17 h while further feed deprivation did not reduced this time significantly. If the fish are slaughtered under non-stressful conditions, the pre rigor time in feed-deprived cod can still be long enough to process the fish prior to the onset of rigor mortis. Feed deprivation resulted in just a small reduction in contraction of pre rigor made products. The tail products, especially made pre rigor, contracted more and had higher drip loss than loins and whole fillets. The sensory profile of fillets changed during the feed deprivation. Most fillets had an unpleasantly soft texture, atypical white colour and less fresh sea odour at day 82. The results in this thesis suggest that the tolerable period of live-storage without feeding of wild mature cod is approximately 54 days.
Beskrivelse
Paper II of this thesis is not available in Munin.
Paper II: Ageeva, T. N., Olsen, R. L., Joensen, S., & Esaiassen, M. (2018). Effects of Long-Term Feed Deprivation on the Development of Rigor Mortis and Aspects of Muscle Quality in Live-Stored Mature Atlantic Cod (Gadus Morhua L.). Available in Journal of Aquatic Food Product Technology, 27(4), 477-485.
Forlag
UiT The Arctic University of Norway
UiT Norges arktiske universitet
Samlinger
Copyright 2018 The Author(s)
Følgende lisensfil er knyttet til denne innførselen:
Relaterte innførsler
Viser innførsler relatert til tittel, forfatter og emneord.
Pettersen, Ingrid Marie

;

Aaknes, Vilde Synnøve

(

Master thesis; Mastergradsoppgave

,

2023-05-15

)

I dag er verdikjeden for fisk og skalldyr bygget opp rundt utnyttelse av et fåtall arter som kan fanges i store volum og med høy markedsverdi. Bruk av lite eller ikke utnyttede marine ressurser kan være en bærekraftig tilnærming for å innfri fremtidige krav og etterspørsel til fiskekonsum. Rødspette (Pleuronectes platessa) er den viktigste flatfisken i volum og verdi i europeiske fiskerier. Både ...

Kleiven, Alf Ring

(

Doctoral thesis; Doktorgradsavhandling

,

2010-09-30

)

The implementation of four experimental lobster reserves in Norway in 2006 highlighted a set of important questions regarding lobster management. This thesis presents a study on the management and fishery of the European lobster (Homarus gammarus) in Skagerrak. Firstly, the implementation process of the lobster reserves was analysed. It revealed that local stakeholders, such as recreational fishers, ...

Karlsen, Kine Mari

(

Doctoral thesis; Doktorgradsavhandling

,

2011-08-26

)

The purpose of this thesis was to study granularity and its importance for traceability in seafood supply chains. The following hypothesis was applied in this thesis: The implementation of traceability of seafood is affected by the granularity level of the traceable units. Three sub-tasks were carried out to test the hypothesis: 1) identify critical traceability points (CTPs) of seafood products, ...