Studies in pathways to care - duration of untreated psychosis and its determining factors in early psychosis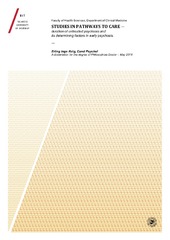 View/Open
Thesis introduction and appendices (PDF)
(PDF)
(PDF)
Date
2018-11-23
Type
Doctoral thesis
Doktorgradsavhandling
Abstract
Mange pasienter med en førstegangspsykose får behandling sent i forløpet og har en lang varighet av ubehandlet psykose (VUP). Forsinket behandling kan skyldes både indre (lidelse og pasient relaterte) og ytre (tjeneste og systemrelaterte) faktorer. Til tross for at nyere forskning har dokumentert at en stor del av forsinkelsen skjer mens pasienten mottar behandling i spesialisthelsetjenesten, så er denne komponenten av VUP lite utforsket. Formålet med studien var å gi en epidemiologisk beskrivelse av behandlingsveier for pasienter med førstegangspsykose i et norsk helsetjenestetilbud, undersøke VUP på gruppenivå, undersøke årsakene til forsinket behandling, og å teste hypotesen om at forsinket behandling er medbestemt av tjeneste- og systemrelaterte faktorer. For å undersøke disse tema samlet vi inn data fra tre ulike populasjoner: 1) pasienter i behandling, 2) behandlere ved distriktspsykiatriske sentere, og 3) fastleger. VUP hadde en medianverdi på 19.5 uker i dette utvalget. Vi fant at forsinkelse i helsetjenesten utgjorde mer enn halvparten av den totale forsinkelsen. Faktorene knyttet til indre faktorer var svært idiosynkratiske, og det er stor variasjon i hvor og hvordan pasienter kommer i kontakt med helsetjenesten. Viktige determinanter for forsinkelse i helsetjenesten var forsinket henvisning og forsinket diagnose. Beslutninger om å henvise var medbestemt av fysisk kontekst og terskelen for innleggelse var forhøyet i mer perifere områder. Forsinket diagnose og feildiagnose, muligens knyttet til at man undervurderer heterogeniteten i den kliniske presentasjon ved tidlig psykose, bidro også til forsinket behandling. På bakgrunn av disse funn fremholder vi at VUP er et flerdimensjonalt begrep som innbefatter både indre og ytre faktorer. Forsinket behandling forårsakes av et samspill mellom flere faktorer, på ulike nivåer, og er også bestemt av den fysiske konteksten. En bedre forståelse av hvor og hvorfor forsinkelser i behandling skjer vil gjøre det mulig å uforme tjenester for raskere oppdagelse og behandling av psykose. Funnene i denne undersøkelsen understreker at et viktig mål for tidlig intervensjon er å bedre henvisningspraksis og å unngå forsinket diagnose for pasienter som allerede mottar behandling i spesialisthelsetjenesten.
Has part(s)
Paper I: Kvig, E.I., Brinchmann, B., Moe, C., Nilssen, S., Larsen, T.K., & Sørgaard, K. (2017). Geographical accessibility and duration of untreated psychosis: distance as a determinant of treatment delay. BMC Psychiatry, 17:176. Also available at https://doi.org/10.1186/s12888-017-1345-8.
Paper II: Kvig, E.I., Brinchmann, B., Moe, C., Nilssen, S., Larsen, T.K., & Sørgaard, K. (2017). "Lanthanic Presentation" in First-Episode Psychosis Predicts Long Service Delay: The Challenge of Detecting Masked Psychosis. Psychopathology, 50(4), 282-289. Full text not available due to publisher restrictions. Published version available at https://doi.org/10.1159/000478989.
Paper III: Kvig, E.I., Moe, C., Brinchmann, B., Larsen, T.K., & Sørgaard, K. (2017). Negotiating the boundaries of psychosis: A qualitative study of the service provider perspective on treatment delay in community mental health. Early Intervention in Psychiatry, 1-9. Also available at https://doi.org/10.1111/eip.12477.
Paper IV: Kvig, E.I, Brinchmann, B., Moe, C., Larsen, T.K., & Sørgaard, K. What do General Practitioners know about early psychosis? A survey of the diagnostic knowledge among gatekeepers to specialist mental health care in Northern Norway. (Manuscript). Full text not available in Munin.
Publisher
UiT The Arctic University of Norway
UiT Norges arktiske universitet
The following license file are associated with this item: